Dear CrowdFarmers,

We would like to thank you for your trust and we are delighted to have been able to send you, for the 2nd year, beautiful nuts in organic conversion.

This year 2020, the continuing global warming leading to capricious weather conditions, has shown us once again that a farmer must know how to be reactive and must adapt to all situations !

COVID and the confinement measures since March have reinforced our choice to have joined CrowdFarming, in order to send the harvest directly to you without any intermediary.

We are delighted and very grateful to be able to count on you, CrowdFarmers, throughout the year with your adoptions of nuts, sent in November and walnut oil, sent in March.
Regarding this year's harvest, the rainy spring with cold nights until mid-July followed by a very dry and hot summer meant that we found ourselves with huge production gaps in the fields. Despite these hazards and the number of trees damaged or uprooted last year because of storms, the harvest was abundant this year. However, we had a lot of fruits of smaller size that did not fit into the PDO "Noix de Grenoble". Because of this event, this year we are offering boxes of nuts for immediate purchase from December 2020 to January 2021.
The preparation of your boxes of nuts was carried out well after the harvest with very careful sorting.
Since mid-November, we have started breaking the nuts and sorting the kernels by hand for the next production of walnut oil.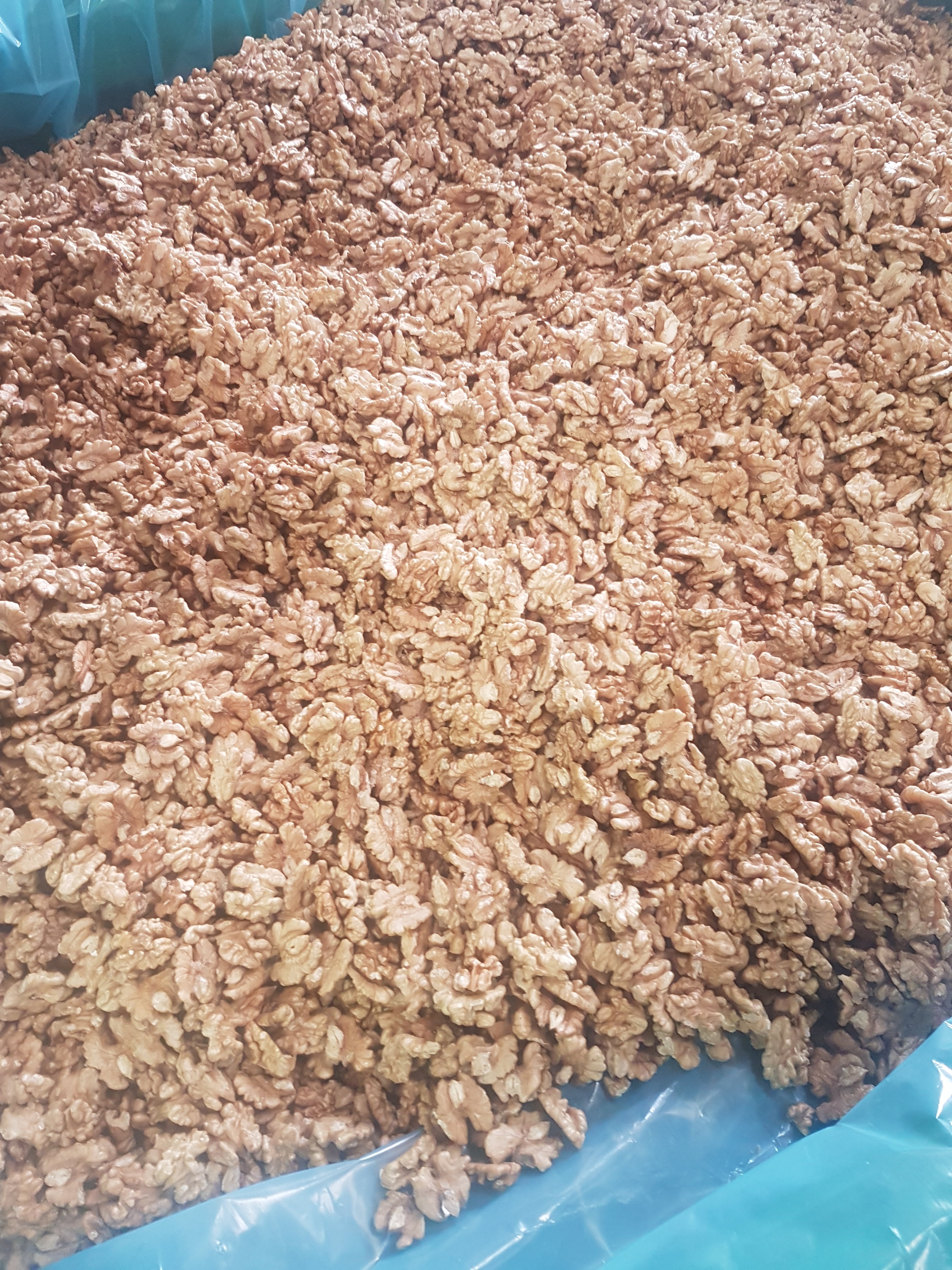 Overall, Sylvain and I, his wife, manage the work on the farm throughout the year. But the recruitment of a seasonal worker is sometimes necessary to help us, especially during the harvest period, a time of high activity for us, as well as in winter for pruning trees and in spring to clear the brush and pull up the ivy that climbs on the tree trunks.

In November, Sylvain runs the chipper all over the land to accelerate the decomposition of dead leaves and promote the addition of organic matter to the soil. It also allows a preventive control of the fungi that can develop on the leaves in the spring with the rains.
Sylvain has just started pruning orchards a few days ago because each tree in production is pruned once every 3 years. He uses pole saws, telescopic saws and sometimes an articulated boom lift to reach the tops of taller trees. This pruning has 3 objectives: to remove dead or broken branches, to promote the supply of light inside the trees to promote photosynthesis, and to allow the passage of agricultural machinery under the trees.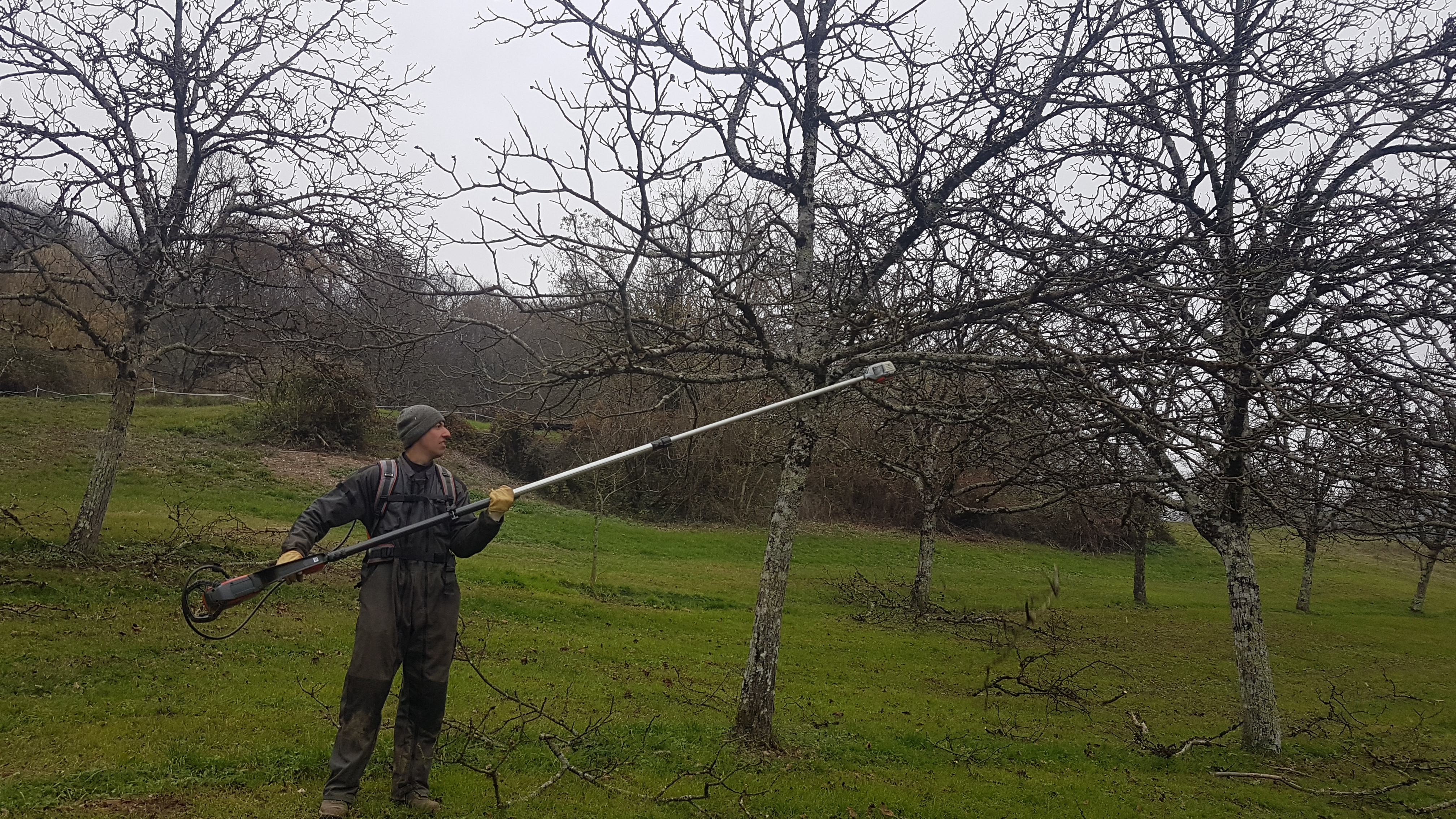 We are now preparing the future harvest of 2021 !

For November 2021, the nut boxes will evolve: a jute bag will protect and wrap your nuts and this will avoid mixing the straw with the fruit. Every year, we gradually consolidate our experience to send you the most successful and solid packages possible ! This was not our job at the start and we are happy to be able to do everything by hand while respecting the environment as much as possible.

Thank you to everyone for your adoptions of our walnut trees. We continue to pamper them with great joy every day, to produce the best nuts possible for you. Thank you very much for your positive feedback, it only makes it more motivating !

Whatever happens, we strive to maintain a high taste quality and we hope you enjoy our nuts, with the new jute bags, as well as our walnut oil !

In the meantime, take good care of yourself, and eat lots of nuts ! See you soon,

Sylvain & Clémence from Merveilleuses Noix (Isère in France)