Dear CrowdFarmer,

We would like to tell you a little bit about us and our work. It was a great pleasure for us to be able to supply you with our apples and our juices last season.
Change in tree adoptions for juice
There is big news about the juice adoptions: So far there was only one packet of juice with 6 liters per adoption, although your adopted tree produces about 30 liters of juice! Many CrowdFarmers have contacted us and asked us to deliver resupplies at a later date. To make this possible, we have tinkered a bit with the adoptions: When adopting a tree, you can now decide whether you want to use 2, 3, 4 or 5 juice boxes of your tree, and order them at different dates throughout the year. We press the juice only with the fully ripe fresh apples in a tank until all varieties are ripe, so you get a nice cuvet from the orchard.

Then we make several filling dates – so you can get different juice flavors delivered at home without needing so much space. The cheap juices on the market are often made with storage apples, which have gone through a long cold chain and before they turn bad, they are often quickly pressed before they become unsaleable. This is exactly the difference to our juice as we only take the fresh directly picked ones which have minor optical defects.

This change affects both quince juice and apple juice. We would therefore ask you kindly to "renew" your adoption in the new project. By clicking here, you can maintain your apple tree adoption for apple juice by adopting a new tree. If you click here, you can maintain your quince tree adoption for quince juice by adopting a new tree.

Just give the tree in the new adoption the same name as before, so we can match it up and you can keep the same tree with its name tag.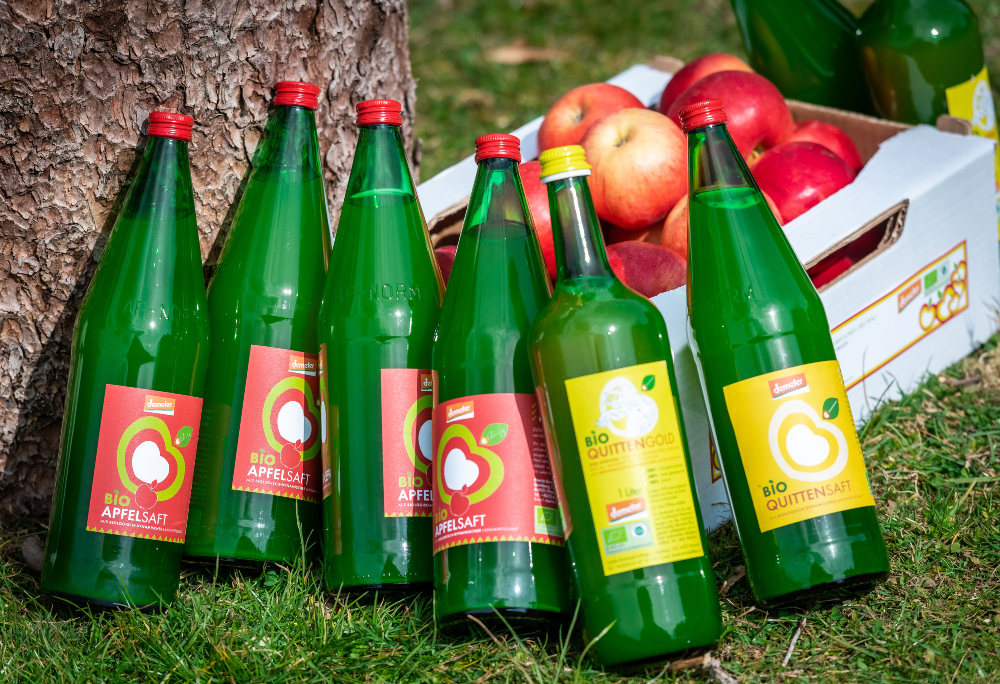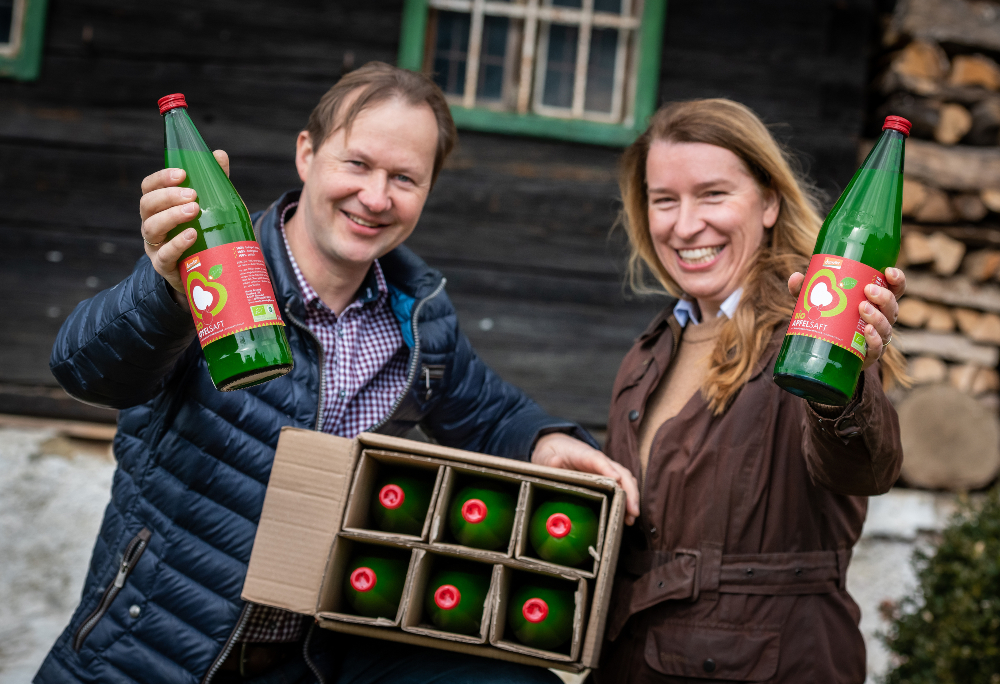 Apple shipping – An adventurous experience!
It was a whole new experience for us last year to receive so many apple orders for the first time. Many of you CrowdFarmers didn't have an adopted apple tree and spontaneously ordered individual boxes from the harvest surplus for tasting. So, from one week to the next, we had to respond quickly. It wasn't easy! Maybe some of you will (again) decide to adopt a tree this year, because booking the number of apple boxes and setting the delivery date in advance gives us an incredible amount of planning security and allows us to hire employees and organize them well. This is a big advantage of CrowdFarming's adoption system, which we would like to use even more.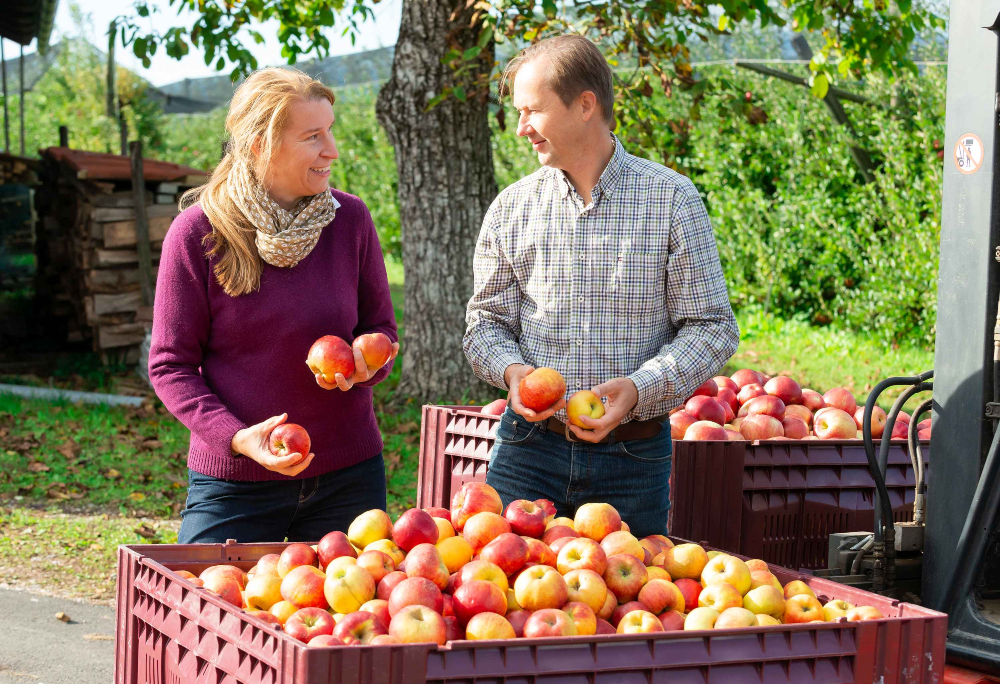 Packaged – with love but without plastic
Already during the packaging, we imagined with joy how you will feel when you open the package, and which apple varieties you will especially like. Your package has been packed with great care and love. We tried a lot in advance to get along without plastic packaging, even the adhesive tape could ultimately be found as paper tape. We were also able to bring our glass bottles safely to their destination without any plastic. We are really proud of ourselves here!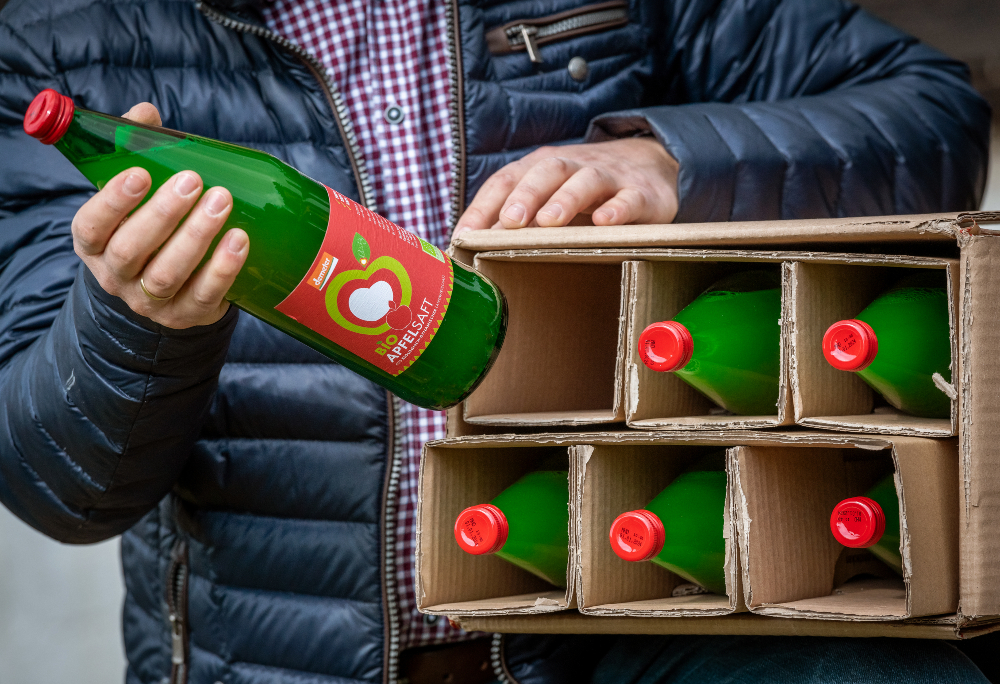 What an alternative to supermarket shopping!
If you supply the wholesale trade, you always have to harvest prematurely, so that the fruits can be stored for quite a long time, which means that the flavors cannot develop to their full extent. Throughout your purchase you give us the opportunity to continue to work on the optimal ripening of apples and quinces in the orchard. It also allows us to keep up the great diversity of varieties, there are varieties that you can not necessarily get in wholesale.

It is a great pleasure to see where and to how many different countries our products may be delivered. It is like an invisible relationship that opens up here and has given us a lot of courage and joy, for which we would like to thank you very much. By the way, our daughter has enthusiastically decorated the December packages with a Christmas stamp, maybe one or the other has noticed.

With your adoption, it has now become possible to let the apple or quince varieties ripen on the tree until they are fully ripe and could develop their full flavor, whether for juice or for direct consumption. For this purpose, several picking passes are made for each variety in order to give the "latecomers" the time to get a taste. The optimal ripeness is rewarded by a full taste experience. Furthermore, the fruits can thereby develop secondary substances, vital substances and a balanced and diverse "apple microbiome". To this end, we have also carried out a research project comparing our biodynamic apples with conventionally produced apples. The diversity and uniformity of the presence of different microorganisms was clearly higher in our apples and seemed to be better balanced. The apple kernels can also be eaten, as they harbor a particularly high number and interesting composition of microorganisms! For those interested, here is the link to the study by the Graz University of Technology: https://apfelmikrobiom.tugraz.at/konzept-wissenschaft/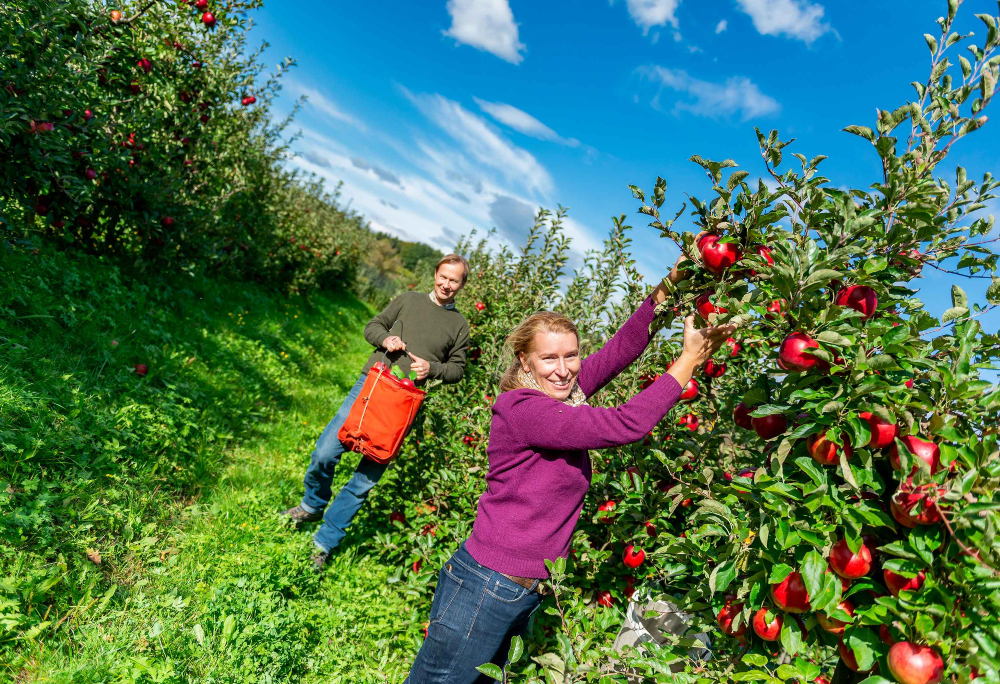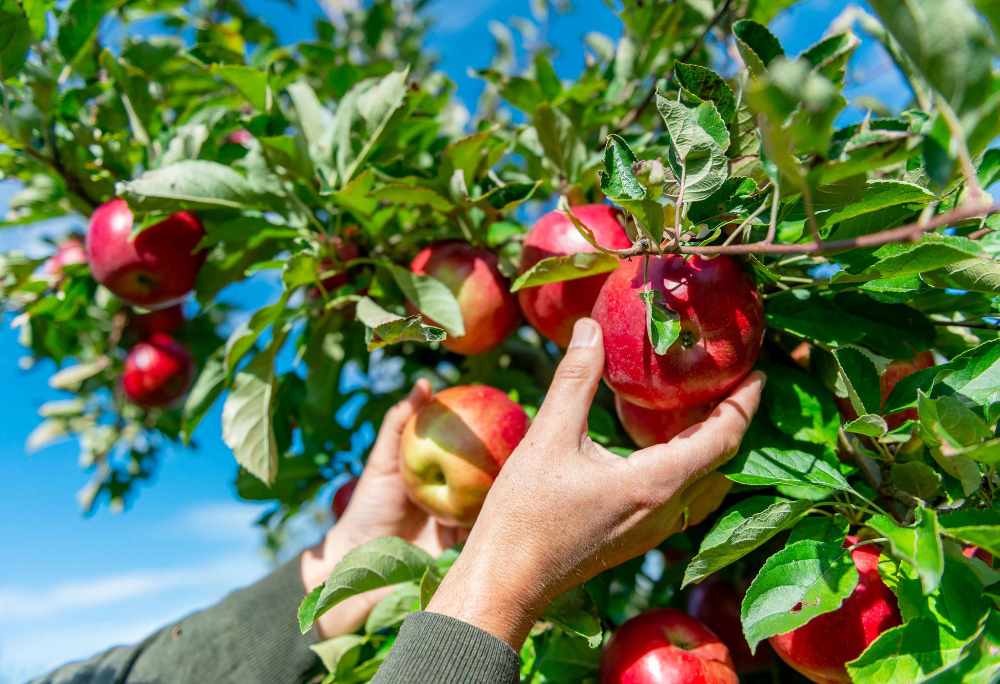 Something new…
In the previous year, we were also able to harvest our grapes in between the apple harvest for the first time and will be able to bottle our first organic wine from the fungus-resistant wine variety "Muscaris" in the next few weeks. Our dream is to also bring our organic wine to you through CrowdFarming in the future. Maybe you would like to adopt a vine from us. In the vineyards we have done all the work by hand, no machine operations were necessary, which meant no soil compaction and unnecessary pressure had to be put on the sensitive edaphon (flora and fauna of the ground = everything that creeps and flies 😉 ).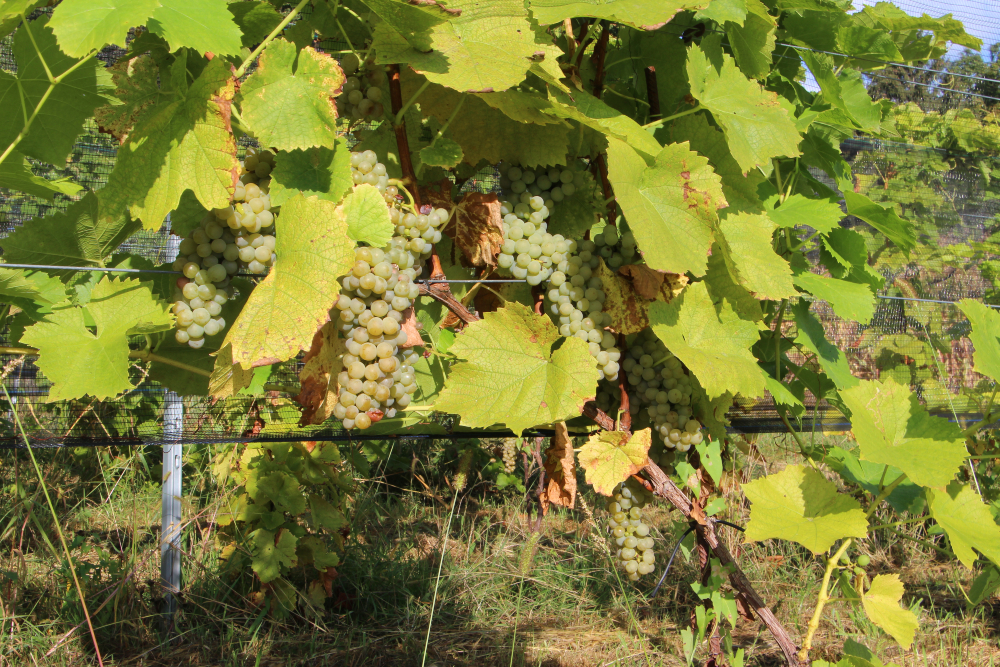 The quince – why?
As the last harvest, the annual circle closes with our quinces. This fruit was hardly further cultivated and still represents a kind of "original fruit", with all its benefits. The quince is popularly said to have a beneficial effect. One can use the fruits, the seeds and also the leaves of the tree for tea. We have chosen quince juice so that we could be surrounded by the special taste and magic of quince for longer. We have found that the bottled juice also matures to be even more balanced over time, similar to wine.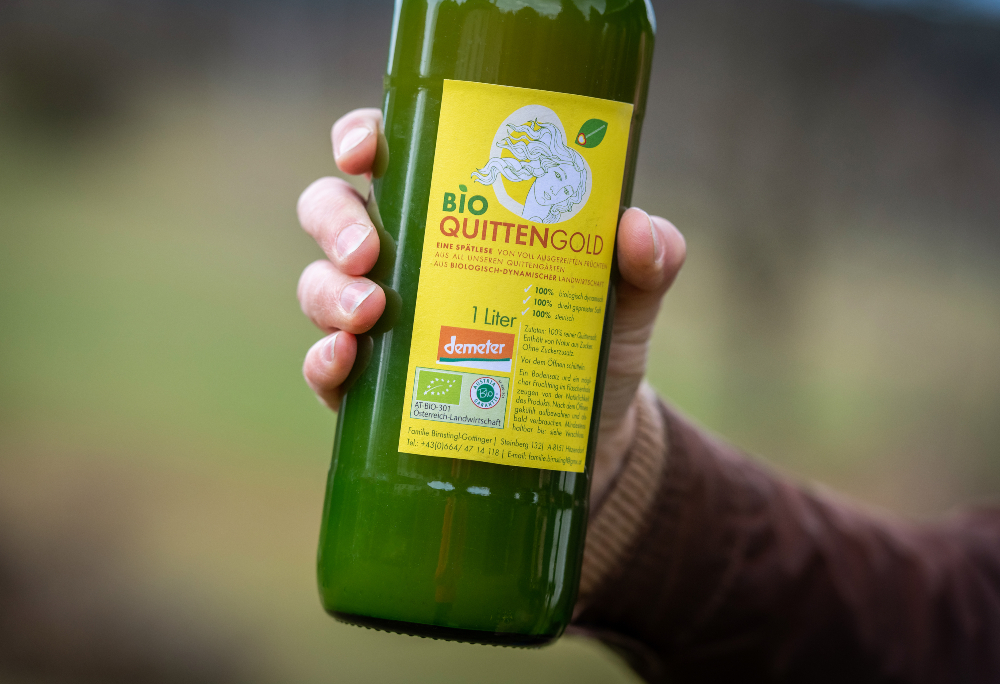 Quince trees are very sensitive trees and have struggled with the changing climate conditions of recent years. Late frosts in particular are very dangerous and have always significantly reduced harvest volumes in recent years. At the moment we are pruning our fruit trees and the vineyards, hoping that maybe the late frosts will not happen this yea

We take care of our trees with love and dedication all year round, to then send the harvest to you, dear CrowdFarmer, in autumn. We wish you all the best and look forward to seeing you again as part of our project.

Sincerely,

Birgit and Stefan

You can renew your adoption by logging into your user account to receive the product next season.