"This wine goes great with aged cheese"; "To enjoy this dish, you should pair it with a good red wine"; "Fish always tastes better with a glass of white wine".

There are lots of theories about the food that best pairs with wines or the wines that best pair with food. Also about when they're best enjoyed: as an appetizer, with a meal or while reading a book. It might seem that everything has been written about wine and food, but nothing could be further from the truth. Nothing is forbidden. And perhaps what seems off the cards is later what you like the most. Be yourself!

Here are some recipes written by wine producers themselves: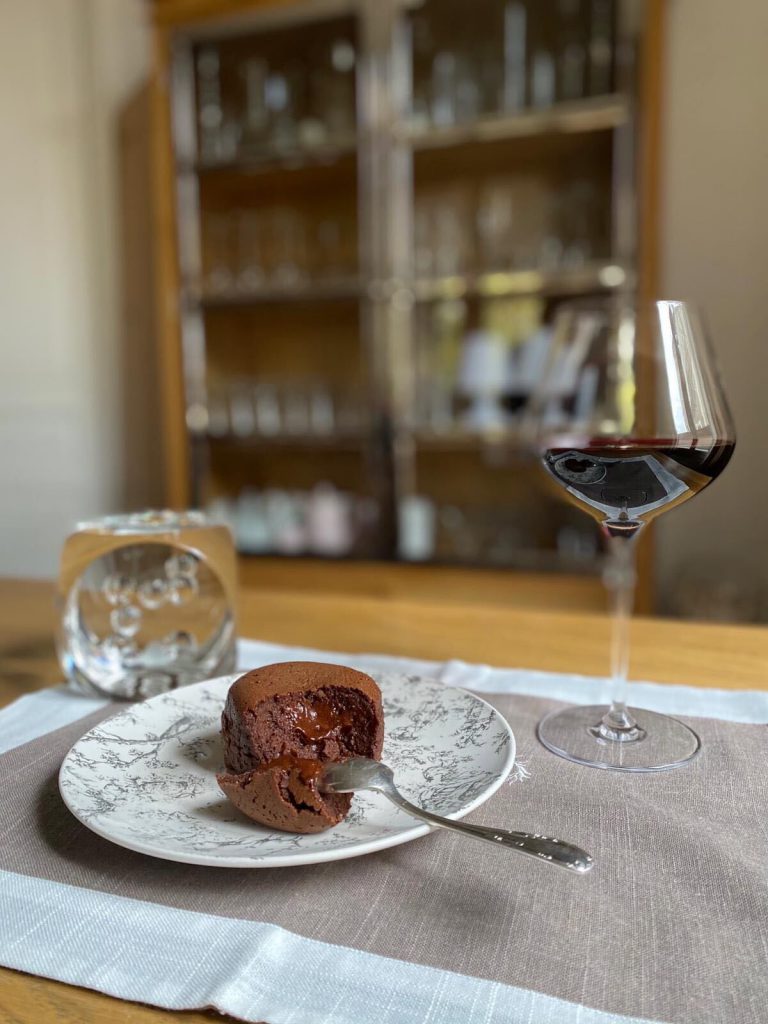 For 7 fondants
Preparation: 15 mins
Cooking: 10 mins

Ingredients:
• 3 eggs
• 60g semi-salted butter
• 100g chocolate (70% cocoa)
• 80g sugar
• 30g flour
• 10g ground almonds

1. Melt the chocolate and butter together in a bain-marie. Pour the eggs and sugar into the blender jar and mix until a clear foam is obtained. Pre-heat the oven to 200°C (gas mark 6-7).
2. Mix the melted chocolate with the whipped eggs. Sift the flour and ground almonds over the egg-chocolate mixture and stir gently.
3. Fill the ramekins. Bake for 10 minutes and then gently turn out from the moulds. Serve hot.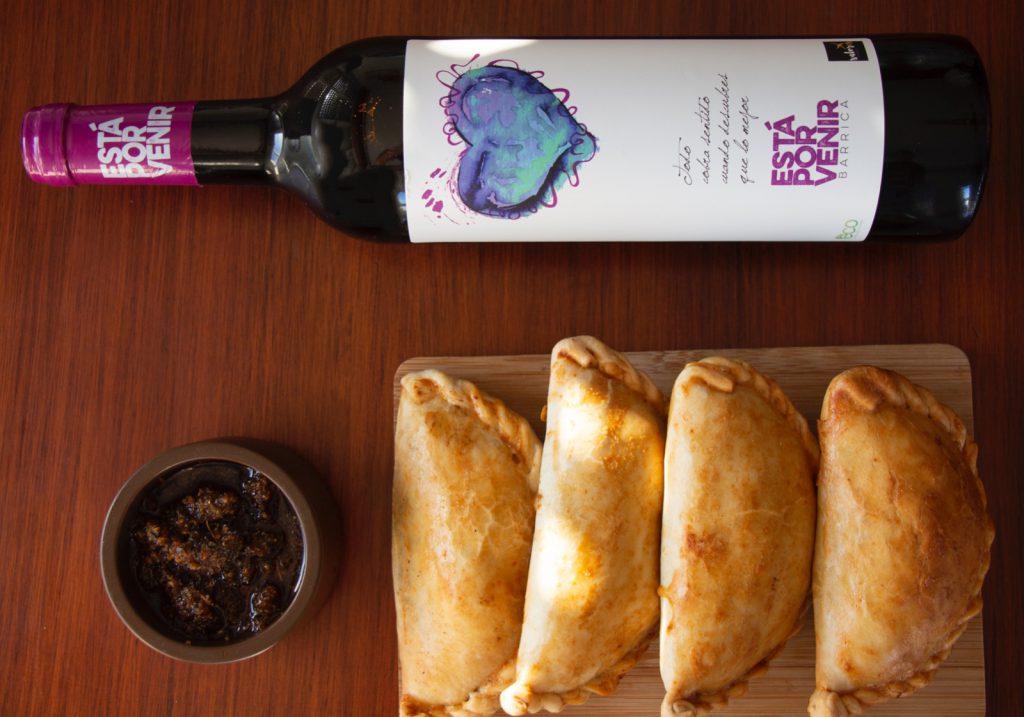 This dish is so easy to make! The empanada dough can be found in your usual shop, but we suggest a delicious filling to pair with our wine.

Ingredients: Empanada dough, onion, red pepper, minced meat or soy meat, boiled eggs, olives, cumin, ground garlic, paprika, EVOO and salt.

For the filling:
1. Chop the onions and red pepper. To make it more succulent, use the same amount of onion as meat.
2. Sauté the onion with the pepper until the onion turns transparent.
3. Add the minced meat or soy meat and fry for a further 5 minutes.
4. Season to your liking: we suggest cumin, garlic powder, paprika and salt.
5. Mix everything well and cook for a few more minutes.
6. Slice or dice the olives (green or black) and the boiled eggs, mix with the rest of the filling and leave to cool.
7. Fill the empanada dough with the mix and place on a baking tray.

Option: brush some beaten egg on the top of the empanadas to give a more attractive colour.

8. Bake at 220°C for 10-15 minutes or until golden brown.

If you like spicy sauce, serve with these empanadas and with our Está Por Venir Barrica wine. Enjoy!



Almerian Meatball Stew – Palomillo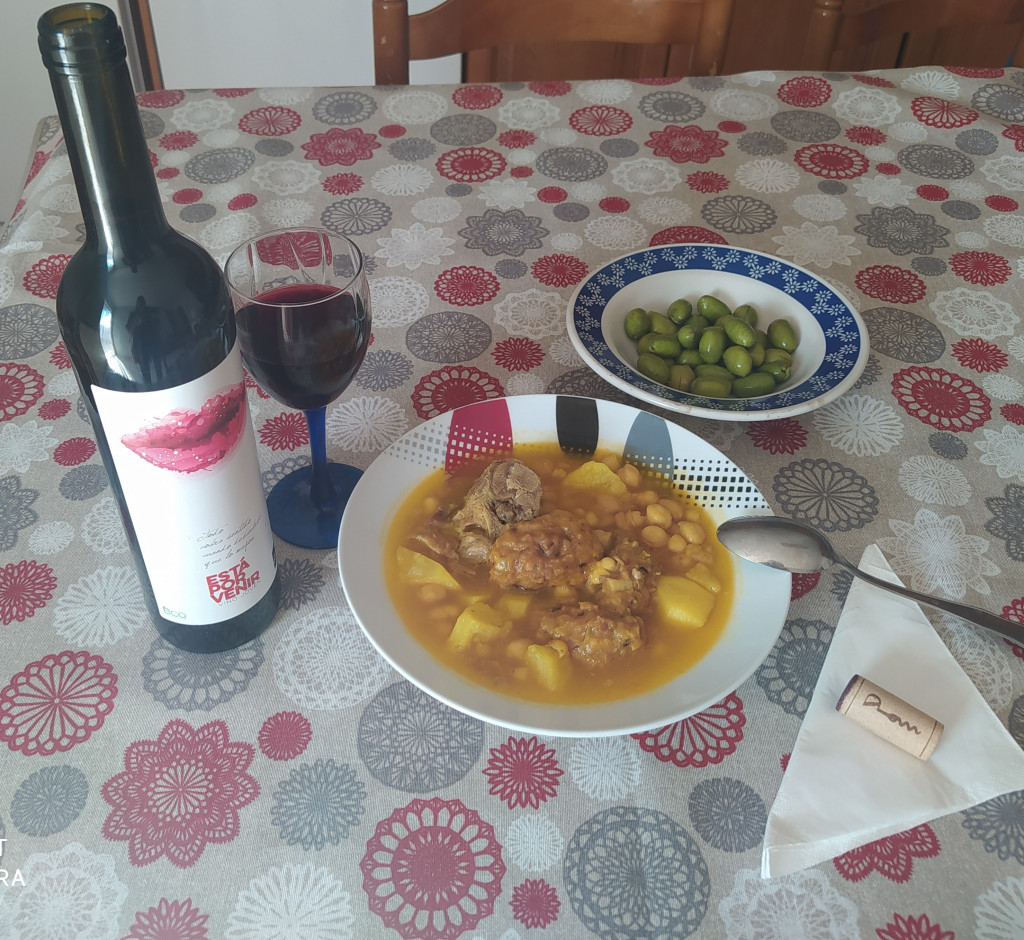 This dish is traditionally from the Almería region and is delicious, full of protein and very tasty.

Even though the original recipe has meat, a vegan option is also possible!

Ingredients: Chickpeas, broad beans, (meat option: ham, chicken and bacon; vegan option: soy protein), dried red peppers, onion, vegetable or meat stock, cornflour, potatoes, saffron, EVOO and salt.

In a large pan, simmer the chickpeas and broad beans (and optionally the cured ham, bacon and chicken) in salted water for 90 minutes.

While the legumes are cooking, prepare the meatballs:

1. Fry the dried red peppers and remove them from the heat when golden brown.
2. Then fry an onion in the same oil.
> If you're using meat, shred the stewed meat and add.
> If you're going vegan, add hydrated soya protein.
3. Add a glass of vegetable stock and corn flour until you get a mixture thick enough for the meatballs.
4. Add the fried peppers and salt to taste, mix everything together and make the meatballs.
5. Then add the meatballs to the vegetable stew along with a chopped potato and the saffron. Simmer again for another 30 minutes or until the potato is tender.

If you have olives on hand, serve them as an appetizer!

This is a very traditional stew that is excellent on cold days served with our Está Por Venir Joven wine. A true delight for the taste buds!



Blaufränkisch RED WINE NOODLES with salted lemons – Weingut Polczer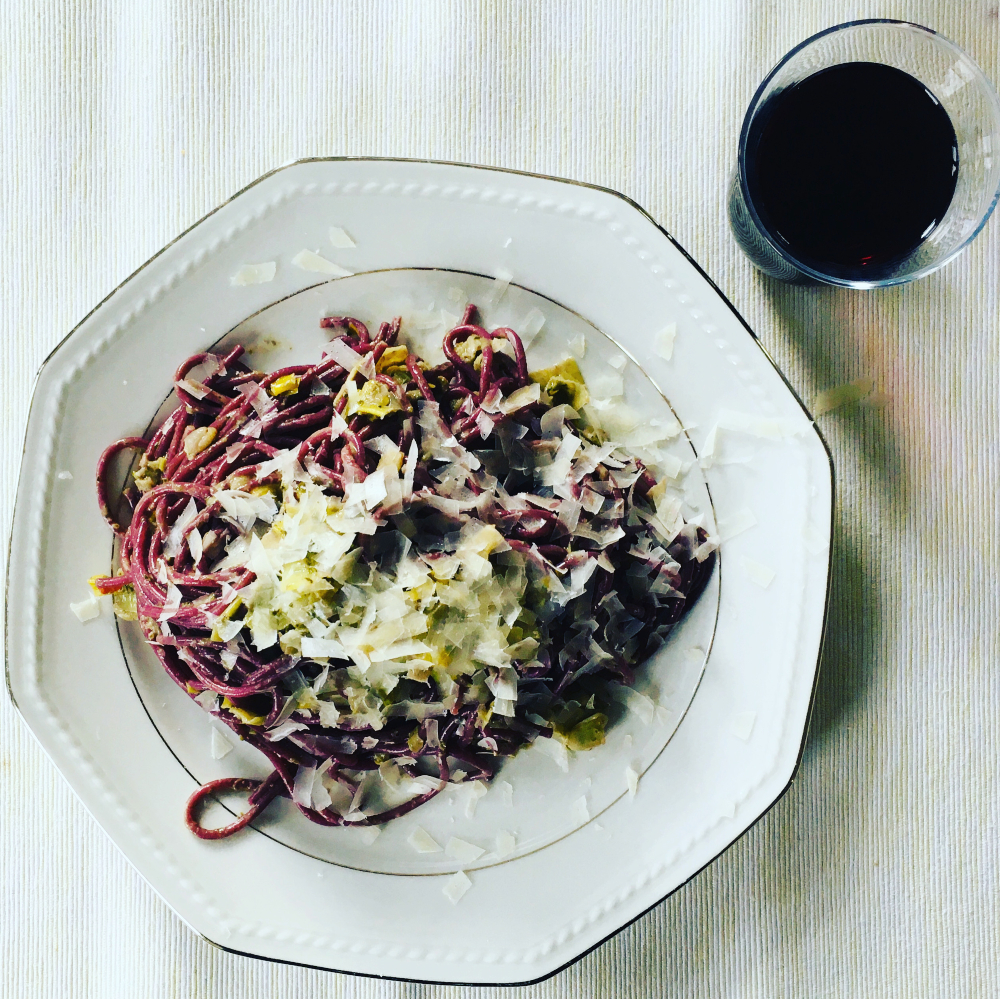 My favourite recipe. Easy, quick & delicious.

POLCZER Blaufränkisch RED WINE NOODLES with salted lemons:

1. Noodles: Boil 2 litres of red wine (Blaufränkisch is best) with a tablespoon of sugar for about 20 minutes.
2. Add 500 g of pasta and cook until al dente
3. Sauce: Finely chop fresh leek and fry it in olive oil. mash 1 salted lemon. Mix with 1/4 litre of cream.
4. Add the leek and season with pepper and chilli.
5. Mix the sauce and pasta together and grate fresh Parmesan over the top.
6. Serve with Polczer Blaufränkisch and just enjoy 😉

P.S.: Salted lemons can also be made from CrowdFarming ORGANIC lemons.

Simply cut into the lemons and fill them with coarse salt. Put all the lemons in a jar and pour the juice of one lemon over them. Simply place the jar in the kitchen and shake it well once a day. Now you have to be patient, because it takes about 4-5 weeks until the lemons are ready. Personally, I then mash them right away and fill them into small jars.

Best regards,

Regine



Roman-Style Artichokes – Montemaggio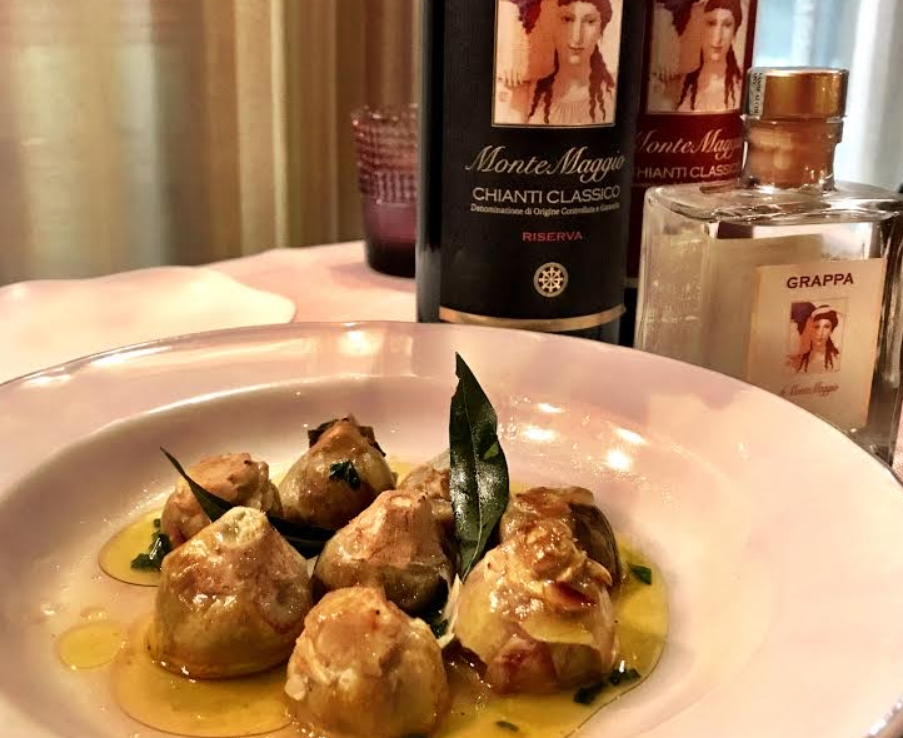 Roman-style artichokes (carciofi alla romana) are a traditional Italian dish and very typical of the area around Rome.

Ingredients: Artichokes, salt, pepper, white wine, garlic, oil, mint, fresh parsley, breadcrumbs.

1. The most laborious part of the recipe is cleaning the artichokes. Remove the outer hard leaves one by one and set aside the most tender part of the stem.
2. Open the leaves to create a space between them and add the mixture of breadcrumbs, salt, garlic, mint and pepper.
3. Once the artichokes have been filled, place them upside down in a pot and cover with 3 tablespoons of hot water, half a glass of extra virgin olive oil and half a glass of white wine (if the pot is very wide, add more water, oil and wine in the same proportion as before: the liquid should be more than half of the artichoke and reach approximately the base of the stem).
4. Cook over a low heat for 40 minutes with the lid on. If the liquid evaporates and the artichokes are not fully cooked, add some more.
6. Use a cocktail stick to control the cooking time. If it goes in and out easily, then the artichokes are done.
7. Serve the artichokes on a plate and season with parsley.