The worst thing you can seemingly say to your teammates, investors or customers when you are running a company, is that you are not consumer-centric. Businesses (especially those selling online) have an obsession with satisfying the consumer at all costs. Brilliant minds in giant companies think about how to push consumer convenience to a new limit. But this limit has long been exceeded when companies forgot about the environmental impact that this frantic race to sell at any price could have.


What is a consumer-centric company?


A consumer-centric company focuses all its business decisions on consumer convenience to generate more sales. For example: reducing delivery time without taking into account the environmental impact, or making a 2 for 1 offer on food that will end up having an impact on the price the farmer receives.


We have decided not to run our company based on trends or survey results, or on the newest marketing strategy they are teaching at business schools. Don't get us wrong, we do take consumer needs and profitability very seriously, they represent a key input in our day to day – but they are not the only factors that drive us.


Our vision


Our vision is to build the most sustainable food supply chain in the world. To build a system that allows organic farmers to set their prices and sell directly to final consumers. In order to achieve this goal, we need to balance our decisions and not just focus on the consumers, but also take the environment and the farmers into account. For us, the environment and the farmers are stakeholders at the center of our business, as much as the consumers are.


In the past decade food-industry players have gotten the consumer accustomed to certain standards, which we removed from our farmer-to-consumer model, in order to make sure it is sustainable: no immediate deliveries. No discount prices. No absurd amounts of packaging for small quantities of food. In other words, if we only think of short-term satisfaction, no one wins in the long term, because it comes at the cost of sustainability.


What is a mission-centric company?


Consumer convenience should not mean that companies will do anything, no matter the environmental or social cost. This is why we have chosen to be a mission-centric company, where the environment, consumers and farmers are all our "customers".


Both farmers' and nature's wellbeing are at stake if we don't change things now. Artificially low prices suffocate the rural economy and force farmers to take decisions based on productivity only. This ends up damaging product quality and the ecosystem in which they operate. The common alternative of simply importing the food we need from far-away countries comes at a high price in terms of social conditions and carbon footprint.


We are not willing to participate in the game where companies just care about selling to consumers and let governments or NGOs care about the environment and social justice – let's take care of it all together!


Our mission-centric commitment

Environment-centric decisions
We don't offer same–day delivery: when you click on the "buy"-button on our website,your fruits are still hanging on the tree and are not already waiting in the cold storage of a warehouse. They are then shipped out on a specific, pre-planned date, along with many other orders with the same destination, to avoid unnecessary transportation.


We want our products to be as natural as possible: no cultivation with synthetic pesticides. No post-harvest treatment such as fungicides and wax.


We try to avoid unnecessary packaging waste: we avoid absurd packaging layers, ship most of our products in just a recycled cardboard box and do not sell individual portions.


Farmer-centric decisions


Our farmers set their own prices: this seems pretty obvious but nowadays farmers don't have any influence on their selling prices. The supermarkets decide the selling price. Based on this price the supermarkets deduct their cost and margin and pay the distributor. The distributor deducts the same and pays the producer. The producer receives what is left over after subtracting all the costs and margins of the other actors in the supply chain from the retail price.


Our farmers are able to sell their products in advance to avoid food waste: promoting the adoption of trees allows farmers to secure the future demand of their food at a guaranteed price and offers them financial stability as well as the ability to better plan their harvests.


We promote the worth of our farmers' products: we don't sell commodities, farmers differentiate their prices based on their real costs. This way they can cultivate sustainably and shift their focus – quality over quantity, organic over conventional.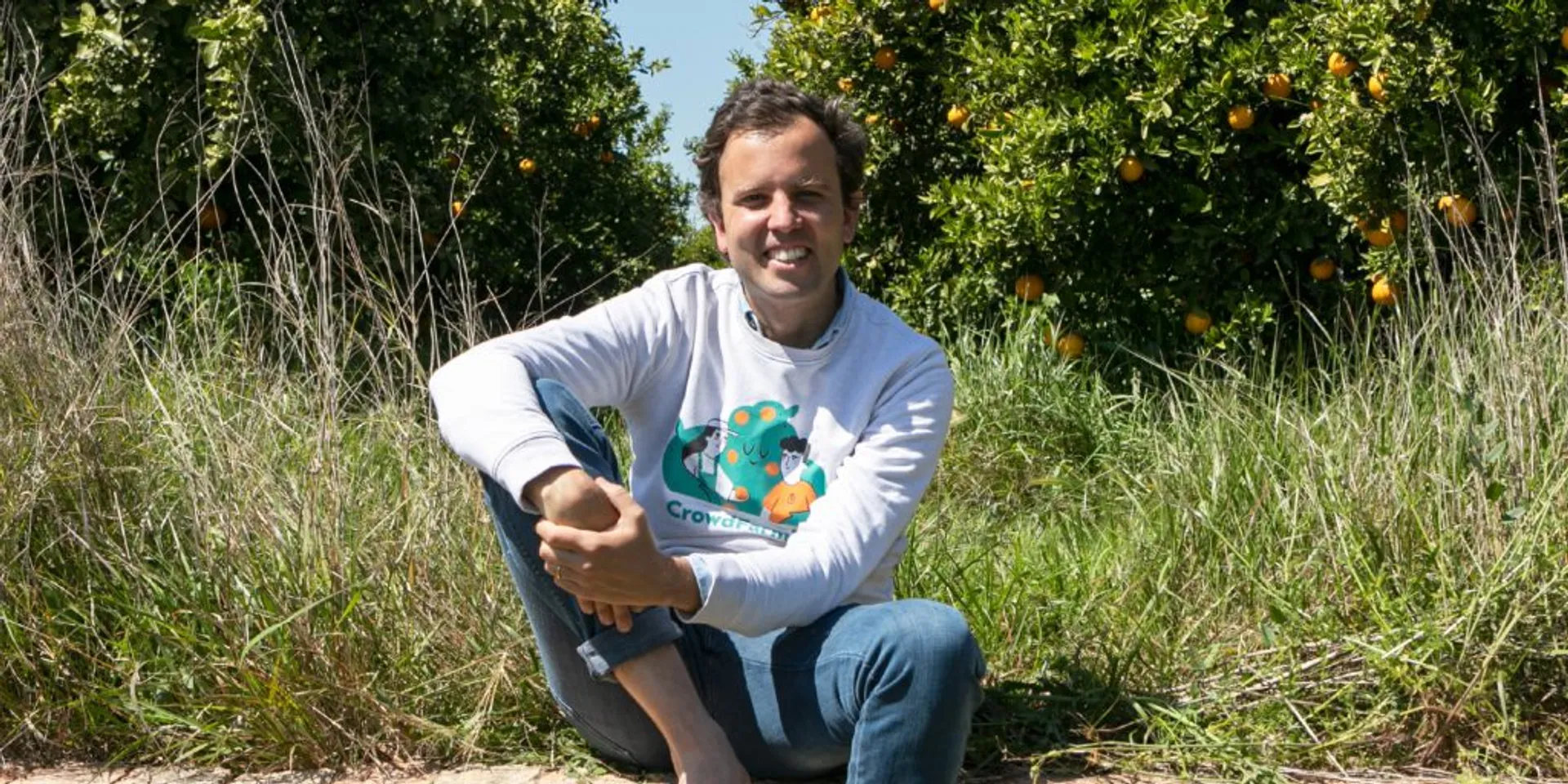 Gonzalo Urculo
Co-founder & CEO of CrowdFarming