We will remember 2021 for achieving a number of goals that were difficult to envision when we started this journey. We have attained numbers that are more than just numbers for the first time in our history. We've surpassed 100 employees, 1,000kg of coffee consumed by the team, 100,000 trees adopted, 1,000,000 orders and 10,000,000 kilos of organic fruit sold without intermediaries.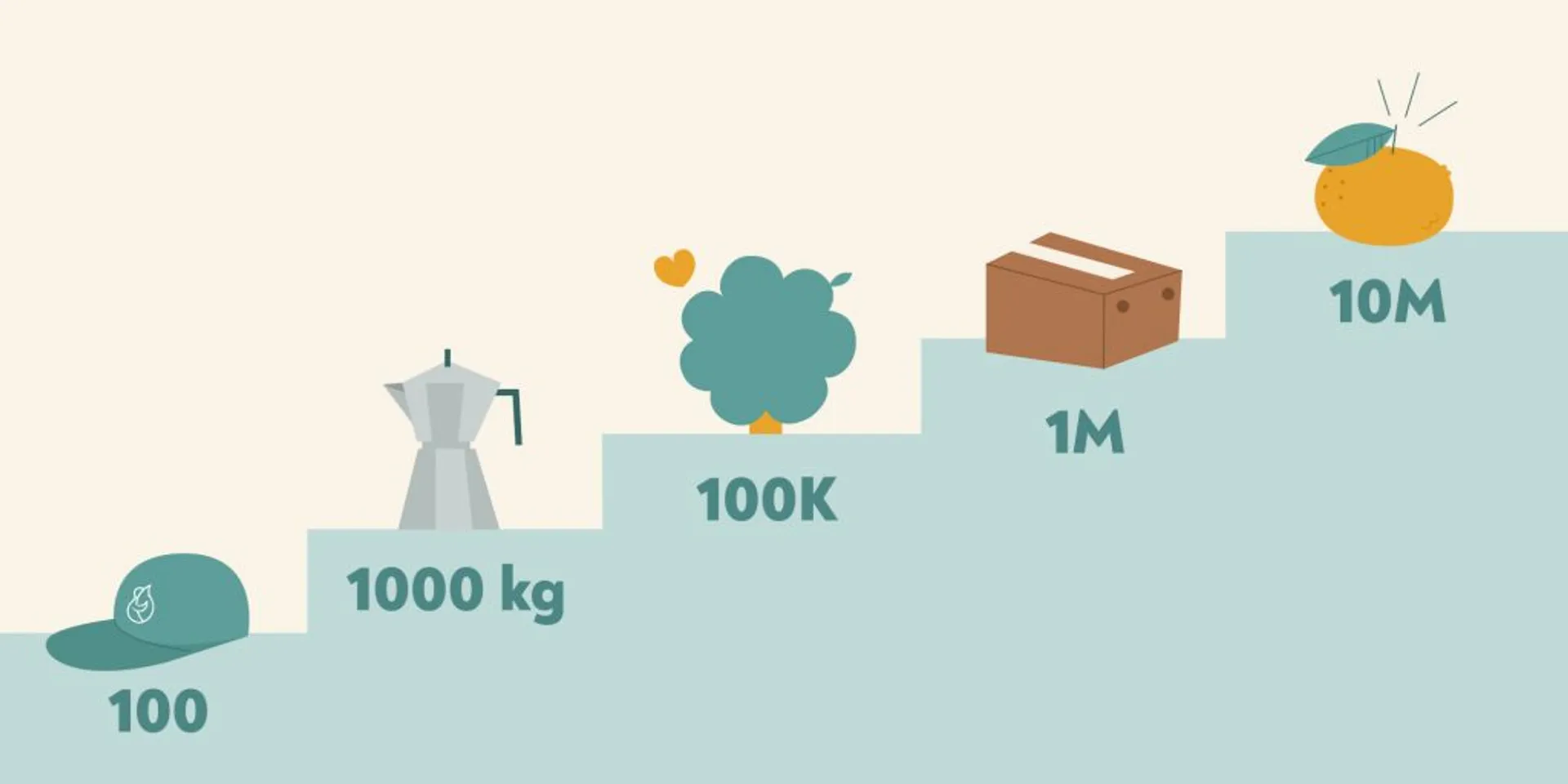 Things to be proud of:


77 new European farmers have joined the direct sale of organic products.


86 people joined our team and we ended the year bringing the total to 136 persons, 15 nationalities, and an average age of 32.6 years.


9 people from the team had a child during 2021 (including myself!).


We moved to a larger office with more space to operate as a team to accommodate our growth. Our teams have met 2.5 days a week in the office on average, with the rest working from home.


We were really taken aback when we received a call from the Chamber of Commerce in the summer informing us that we had won the award for best SME of the year in the Comunidad de Madrid.


Data that must be improved in order to avoid failure


During the months of December and January, we received an influx of e-mails that we were unable to process properly. Our e-mail response times have increased significantly. To solve this problem we have just integrated a new e-mail management software that we hope will allow us to reduce response times to less than 3 days. In addition, we are already offering the possibility of giving an immediate and personalized response to phone calls.


A total of 1,86% of orders arrived with some sort of issue. This means that out of every 100 orders we send, only about two will have an ussue, no matter how minor. It's a figure that worries us, so we're working with farmers one-on-one to improve the quality of our shipments. Because they used to sell through an intermediary and weren't responsible for preparing the orders, not all farmers have the same experience.


When you work with fresh organic products you have to accept that there can always be some complaints, but our goal is to reduce the possible incidents to less than 1% of all shipments. To date, all incidents in 2021 have been resolved.


Agricultural projects that have a positive impact on the environment


Our assistance to farmers extends beyond assisting them in selling their crops without the need of middlemen. This year, we've had a lot of interest in two social and environmental projects:


Conversion project: This entails providing commercial and technical support to farmers who want to begin cultivating their fields organically. Farmers who display the "In conversion" seal have already begun to cultivate their crops organically and are working toward acquiring the European certification.


Tropiterranean is a European agricultural movement started by organic tropical fruit farmers (avocado, mango, papaya and cherimoya). The goal of this initiative is to create awareness about the water use of tropical fruits cultivated in Europe and to protect regions that are ideal for their long-term production.


In less than two years, we have achieved that half of Andalusia's organic avocado and mango production has joined the Tropiterranean movement (496 hectares).


Furthermore, in November, we established our Impact & Sustainability team, which will allow us to disclose information such as how much carbon the tree adoptions fix and how much employment they generate.


Thank you for joining us in 2021. We promise to strive to make the 2022 harvest even better.


Happy Harvest!


Gonzalo Úrculo, farmer and cofounder of CrowdFarming