Dried Demeter organic goji berries from Von Mentzingen
0,50 kg/låda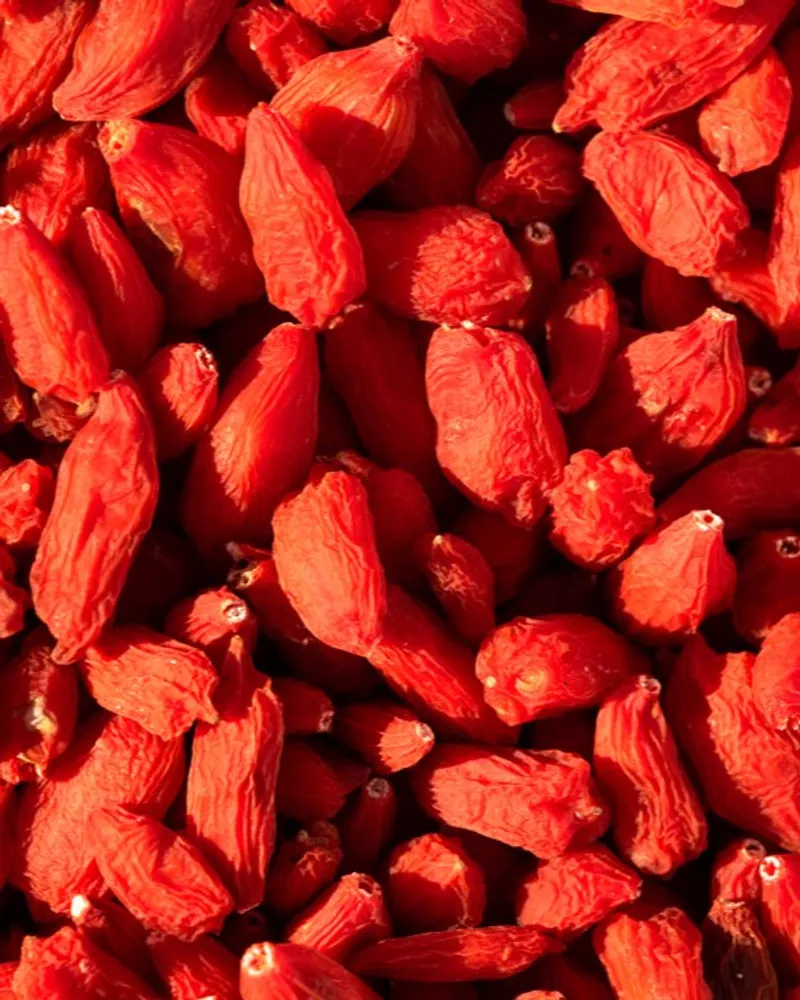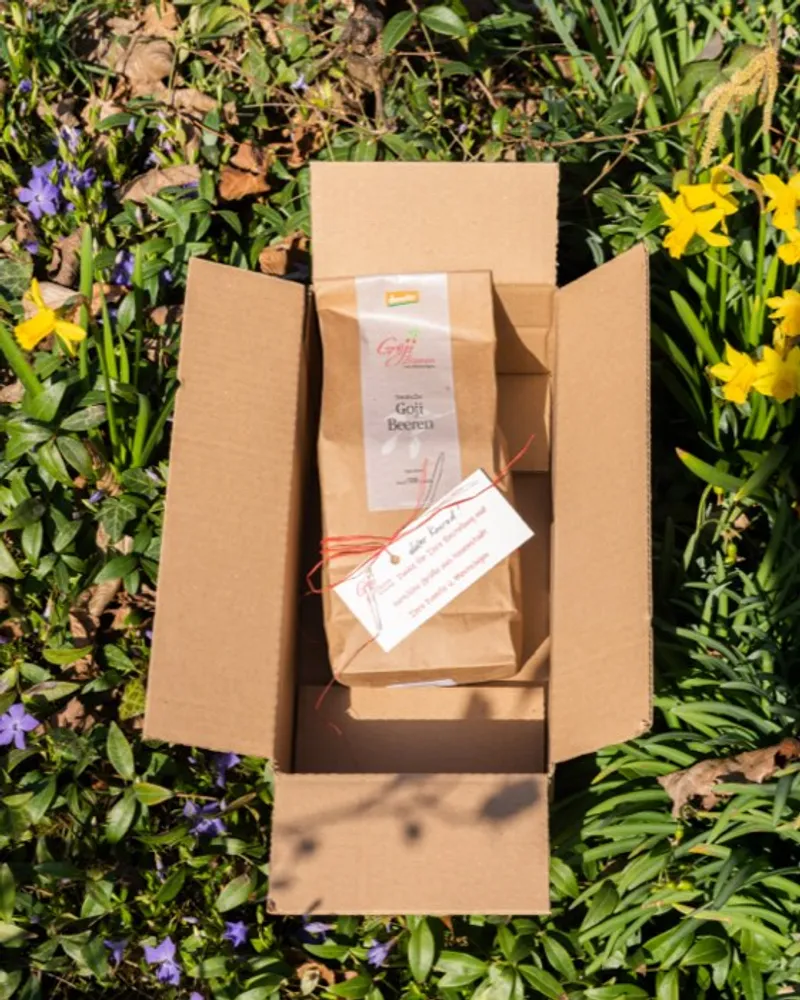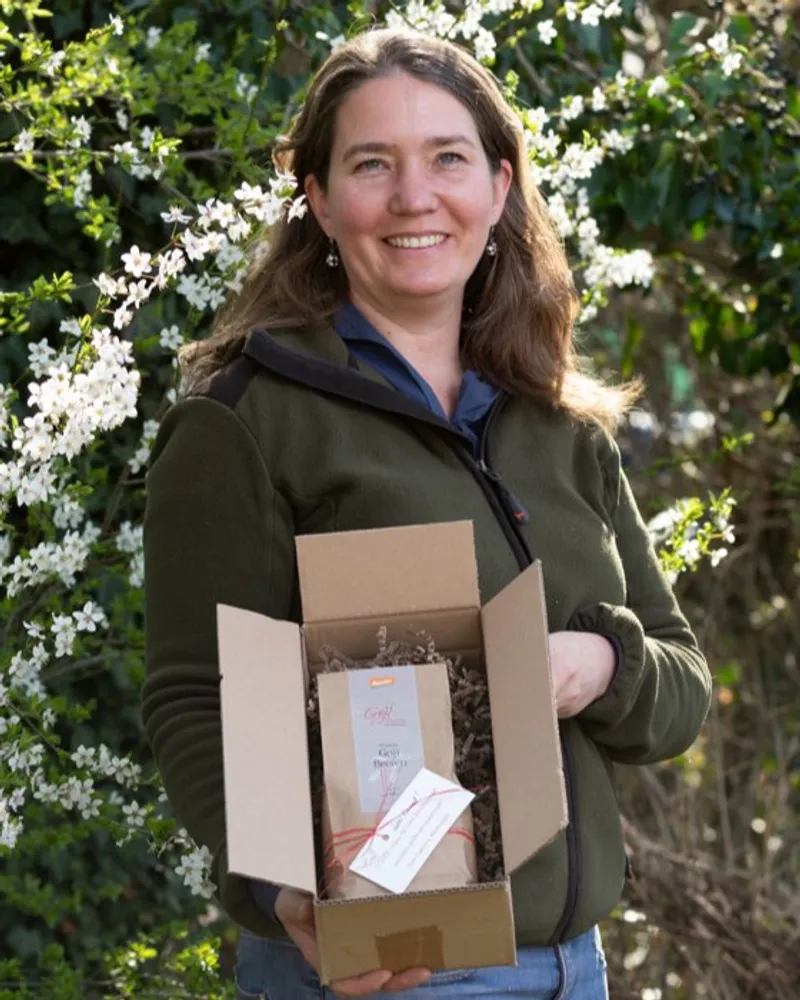 Dried Demeter organic goji berries from Von Mentzingen
0,50 kg/låda
Köp direkt från odlaren. Utan mellanhänder.
Begränsad och säsongsskörd.
Farmarn skickar (ännu) inte till:
Förenta staterna
Specifikationer
Lådans innehåll: 1 låda innehåller 0.5kg torkade ekologiska Demeter-gojibär
Sort: Turgidus
Torkade Demeter-gojibär (500 g, papperspåse): naturliga, utan ytterligare tillsatser och är inte svavlad, dess smak är väldigt söt, med en svag doft av dadlar och fikon, konsistensen som påminner om ett russin
We recommend half a tablespoon a day, as a snack, in muesli or in a salad, we also use them in hearty cooked dishes, there are no limits to your imagination
Biodynamisk odling certifierad enligt Demeter-märkning sedan 2016
Du kan njuta av gojibär under ett år i om de förvaras på en sval, torr och ljusskyddad plats
Personanpassad skörd
Utan plast
Familjeodling
Miljömedveten
Erfaren odlare
Officiella certifieringar
Demeter
Ekologiskt
My agricultural story begins with my brother's wedding. At that time I was at the end of my studies in tourism business administration and my plans for the future layed in the big wide world. At the wedding I met a long-time friend of my brother's and only two years later we got married. Shortly afterwards, my husband took over the parental farm. Today we have four daughters and we live happily here in a small Swabian town in southern Germany. However, I never let my eyes take on the world. With great curiosity, I observe agricultural developments worldwide and have a great interest in valuable and enriching agricultural products from other parts of the world, from which we in Europe can also benefit. The shared joy of working in and with nature and the love for it have united my husband and me from the beginning. We both share the joy of high-quality food, good cooking and appreciate the down-to-earthness that our work entails. Together we worked on the further development of our company and also looked at the possibilities of organic agriculture. In 2016 I took over one of the oldest Demeter farms in the region. My husband also takes care of the practical things in my company. He now has over thirty years of professional experience and is seriously interested in a good, innovative and future-oriented path for agriculture. We want to walk new ways together and find solutions for a sustainable and more environmentally friendly agriculture. In search of a valuable, up-to-date product for our 16th generation agriculture, we came across the Gojiberry. Enthusiastic about the myth surrounding the berry, the valuable ingredients and the taste, our decision was quickly made. The fact that the delicious berry has so far been imported almost exclusively from China confirmed us. Now we have: Gojiberries "made in Germany".
Our company "Gojiberries v. Mentzingen" is located in southern Germany, in the hilly landscape in the north of Baden-Württemberg, in Neuenstadt am Kocher. We live in one of the warmest regions in Germany and the ripening of the gojiberries benefit from our temperatures and sunshine. The landscape is characterized by varied agriculture and beautiful mixed forests. In the 16th generation, my husband's family lives on and with agriculture, at that time it was, as was customary in the past, a traditional mixed farm with cattle, and later there was a growing trend towards agriculture. Each generation has different priorities and only constant change and adaptation to current society needs has ensured its survival to this day, such as growing asparagus at the moment. Since we took over the company, we have been looking for a future-oriented type of agriculture that keeps an eye on the ecological aspects as well as the economy. Our origin lies in traditional conventional agriculture. In 2016 we had the opportunity to take over one of the oldest Demeter companies in our area as an extension. Both my husband and I were at the local Waldorf school during our school days, so Rudolf Steiner's ideas were not foreign to us and we accepted the takeover as a challenge and enrichment of our agricultural work. In search of a new and innovative product for our Demeter company, we came across the Goji berry, which has only become known in recent years. We are the first company in Germany to grow berries according to Demeter guidelines and to dry berries grown in Germany. Our three goji berry fields have a total area of ​​approx. 3 hectares. If it is necessary due to the weather, we water the plants with water from the stream stove by means of drip irrigation. So far we have not had to use crop protection. If pests occur, we will try to control them by using beneficial insects. In addition to the goji berries, we have two small orchards with very old trees. Insects, birds and bats find shelter here. Grasses and nettle are allowed to grow here all year round. During the season, my husband and I receive support from our long-term seasonal workers, who we pay well above the minimum wage from the third month onwards.
Frågor och svar
Vilken inverkan har mitt köp?
Hur färdas min beställning?
Vilken inköpsgaranti har jag?
Vilka fördelar får jag av att köpa direkt från odlaren?