Organic kiwis from Moulin des Cabanes
2,50 kg/caja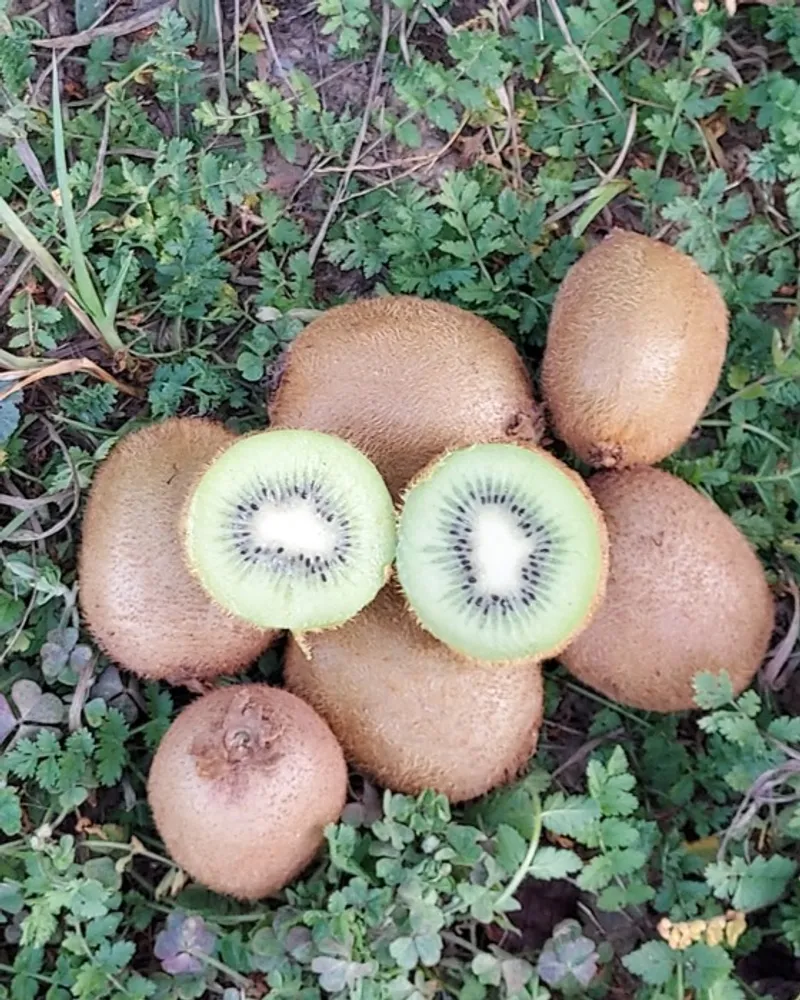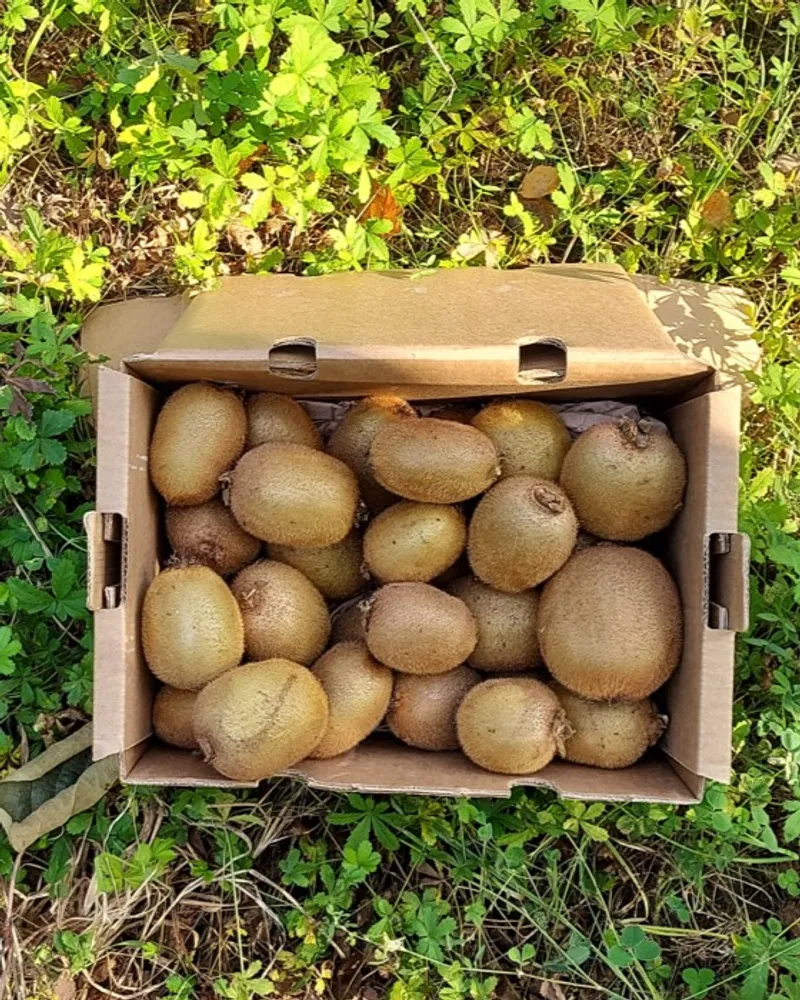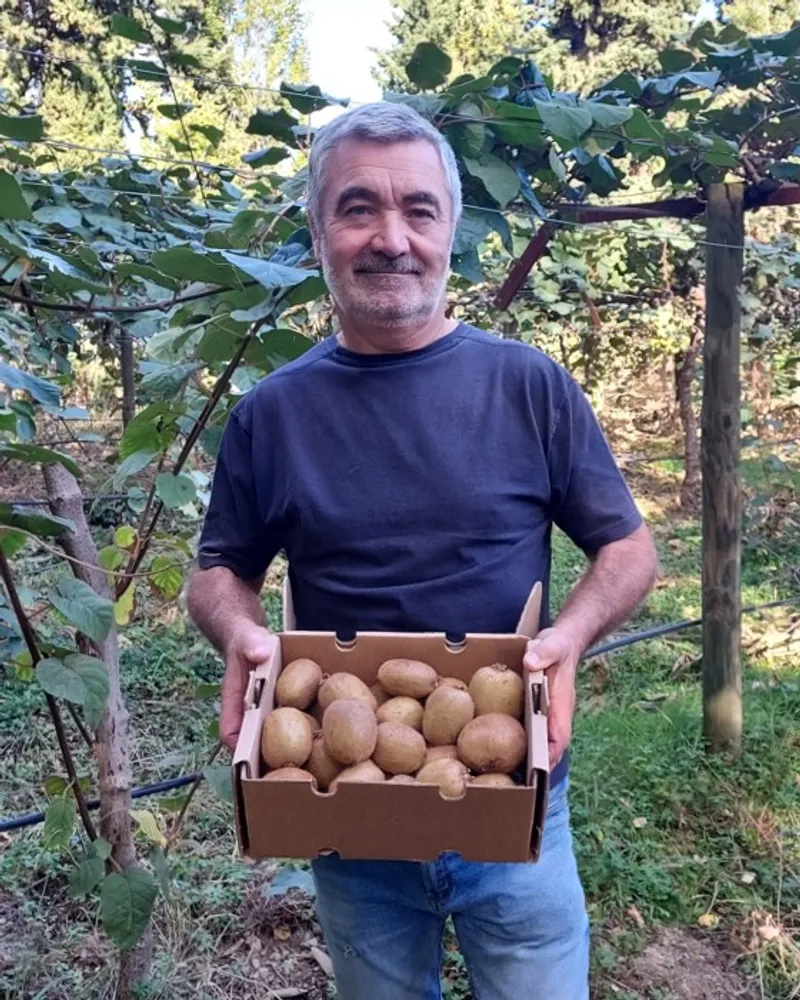 Organic kiwis from Moulin des Cabanes
2,50 kg/caja
Compra directamente al productor. Sin intermediarios.
Cosecha limitada y de temporada.
El Farmer no envía (de momento) al país seleccionado:
Estados Unidos
Especificaciones
Contenido de la caja: 1 caja contiene 2.5kg de organic kiwis
Variedad: Hayward
A fruit with an emerald green pulp and numerous small seeds, while in the middle of the fruit is the cream-coloured core, which is also edible; its completely fuzzy skin is light brown and the flavour achieves the perfect balance between sweet and tart
Organic farming certified by the European Organic Farming label since 2017
Excellent to enjoy as is at breakfast time or in a fruit salad
Contrary to other fruits, kiwis cannot be harvested gradually and need to be harvested all at once when having reached their full maturity; in order to avoid food waste and to ensure farmer's economic stability, they are kept in cold storage, never longer than the current season (maximum of 12 weeks storage)
Harvest date: November 2022
Our farm is not a screw factory: each fruit is unique in appearance and size
One kilo contains between 8 and 13 fruits
If you keep them in a fresh and airy place, they can last up to 4 weeks in good condition (if you want them to last longer, you can keep them in the fridge)
It is a climacteric fruit which is harvested when it reaches physiological maturity; after being picked from the tree it then continues to ripen until it has reached its optimum point for consumption
Sin plásticos
Farmer con experiencia
Farm familiar
Certificaciones oficiales
Ecológico
My name is Bruno Lopez and I was born into a family of farmers. After my agricultural BTA diploma, my parents were not necessarily in favour of my wish to take over from them, because life as a farmer requires great commitment. I finally managed to convince them and I don't regret it. Even today they work with me everyday despite their age, because it is not only a profession but a passion. However, I was predestined to take over the farm: as my mother likes to tell me, I was almost "born on one of the plots of the farm", as my mother felt the moment coming while harvesting white beans! It is an anecdote, but it says a lot about the rooting of family in agriculture and working the land. The transition was smooth, I had already learned a lot as a young person and my parents continued to pass on to me what they knew. Since I took over the farm, I have also shared with them my experiences, discoveries and above all the shift towards organic farming that I decided to undertake a few years ago. Today, I am in charge of crop management as well as product marketing. My daily life is really different from one season to the next but the common thing is that we never get bored! My wife Marie-Josée is also an employee and takes care of the administrative part. My father continues to help us on the farm, and my mother is often present as well. In addition, we have 7 seasonal crops, but they are there over 9 months out of the year between harvests which run from Spring to Autumn, followed by pruning. The manual picking of the kiwi fruits is pleasant with the mild climate, the shade created by the creepers and the possibility of hanging the baskets on the metal structures at arm level. Today, one of the main challenges we face is adapting to global warming which our crops are suffering a lot, including kiwi, which does not like heat and drought. My greatest satisfaction today is producing quality fruit and I am happy to be able to make them available directly to consumers through CrowdFarming so that they know where they come from and know their story.
My farm is called Moulin des Cabanes and is located in Corbère-les-cabanes. My parents had set up their farm "rue du moulin" back in the day because there was a water mill there at that time. In our region, the main activity is agriculture, with many orchards and vegetable crops. We are also close to a touristic region with the Mediterranean coast a few dozen kilometres away. Historically, most of the farm was market garden plots, including white bean crops. My parents started planting nectarines, peaches and then kiwis. Travelling a lot, they had discovered kiwis and wanted to try this crop at home, in Roussillon. More recently, I have added apple trees, apricot trees and some grapevines because they are crops that are very well adapted to the region and also very much appreciated by consumers. All plots have been certified as Organic Agriculture since 2020. The transition has been gradual, but today the hardest work is done. We have learned a lot and the orchards have now stabilised as well. The plots are grassy in order to promote biodiversity and avoid erosion. Wood residues from pruning are crushed and left on the ground, creating a consequent humus and enriching the soil almost enough not to have to add organic fertilisers. We still buy a little manure from a neighbour to supplement it. We fight pests or diseases with organic treatments and in particular clay to fight against bacteriosis. We irrigate by spraying, after closely monitoring the soil moisture content with sensors. From June to October, the water requirements are quite high, and we irrigate 1.5 hours a day. We have many windbreak hedges to protect crops from the tramontane (North wind) that can damage them (especially kiwis with fragile lianas). But they also promote biodiversity by acting as hosts for insects or other species. We would like to take advantage of the sun in the region to transform solar energy into electricity but I have not yet been able to find technical solutions to do so because my farm is not connected to a network that allows it. A good part of the team is family, my parents are always there and they have given me the knowledge necessary for arboreal management. My wife also works on the farm and we also have 2 other people helping all year round. We also have 7 seasonal workers who work with us for 9 months of the year. The whole team receives a salary in accordance with the collective agreement and we work in a positive atmosphere and take into account each person's character and strengths. Fruit that does not fit the size range is sold locally and fruit that cannot be sold is processed into fruit juices and nectars.
Preguntas frecuentes
¿Qué impacto genera mi compra?
¿Qué garantía de compra tengo?
¿Qué beneficios obtengo de comprar directamente del agricultor?