Adopting a tree, an animal or a piece of land? The idea may seem crazy, but this is the project we have launched alongside European farmers. The concept is simple: you adopt a tree, an animal, or a plot of land from the Farmer you wish to support, and then you receive the "fruits" of your adoption directly at the address of your choice.


The benefits of adoption for consumers


Creating a connection with the Farmer


In the traditional food distribution chain, knowing about the origin of our food and the people who grow it is not always obvious, or even possible. By adopting with one of our Farmers, you have access to detailed information about the farm and the Farmer, plus you can reserve your produce ahead of time, ensuring its availability once the harvesting season arrives.


Once you've adopted, you make a real connection with the people growing your products as you receive news about your adoption and the farm.


Another positive point – much appreciated by many of our CrowdFarmers (consumers of the platform) – is that the Farmer gives you the possibility to visit your adoption at the farm, allowing you to discover the farm and learn more about the Farmer's daily life.


Consuming quality and sustainably grown products


By giving farmers foresight of the coming season, you enable them to implement the necessary measures for more environmentally friendly management, without having to worry about a later harvest or lower yield. In addition to eating great tasting produce, you know exactly how it is grown.


This contributes to the economic revitalisation of rural areas, you support the development of a more sustainable agriculture, in a concrete and tangible way.


The benefits of adoption for the Farmers


Gaining financial stability


One of the main characteristics of the agricultural sector is that farmers produce blindly, without knowing what the real demand is, or at what price they will be able to sell their crops. In Spain, for example, many farmers are paid ten times less than the price at which oranges are sold in supermarkets.


With our adoption system, they know exactly who they will sell to and at what production cost. They can then set the price that they think is right for their products, and plan the harvest with peace of mind.


In addition, it allows them to invest in more environmentally friendly cultivation and harvesting techniques, without having to worry about the harsh supply and demand conditions present in the traditional market.


Balancing supply and demand also significantly reduces food waste. Why? Because standard market conditions may lead farmers to throw away some of their produce. If the price of produce on the traditional market is lower than the cost of transport and labour, farmers may leave their crops unharvested. For example, if the production and processing cost of a kilo of oranges is higher than the price received for selling them, some farmers will not even bother to harvest their fruit, leading to a terrible waste of food.


On the topic of food waste, we at CrowdFarming strive to further reduce this, since we do not discriminate against "ugly" fruit and vegetables. The priority for our Farmers is to bring you quality products full of flavour.


Strengthen the local economy of their region


Receiving better remuneration and having a better view of their future harvesting seasons allows farmers to create employment in rural areas. This is because they can plan ahead for their costs, and the labour needed to help them.


How does it work?


1.     Visit our Farmers' market
2. Adopt from your favourite project, and name your tree or plot of land (the animals already have their names!).
3. Plan the shipments of your boxes (in the case of a multi-shipment adoption)
4. Let nature take its course
5. Receive your harvest at the address of your choice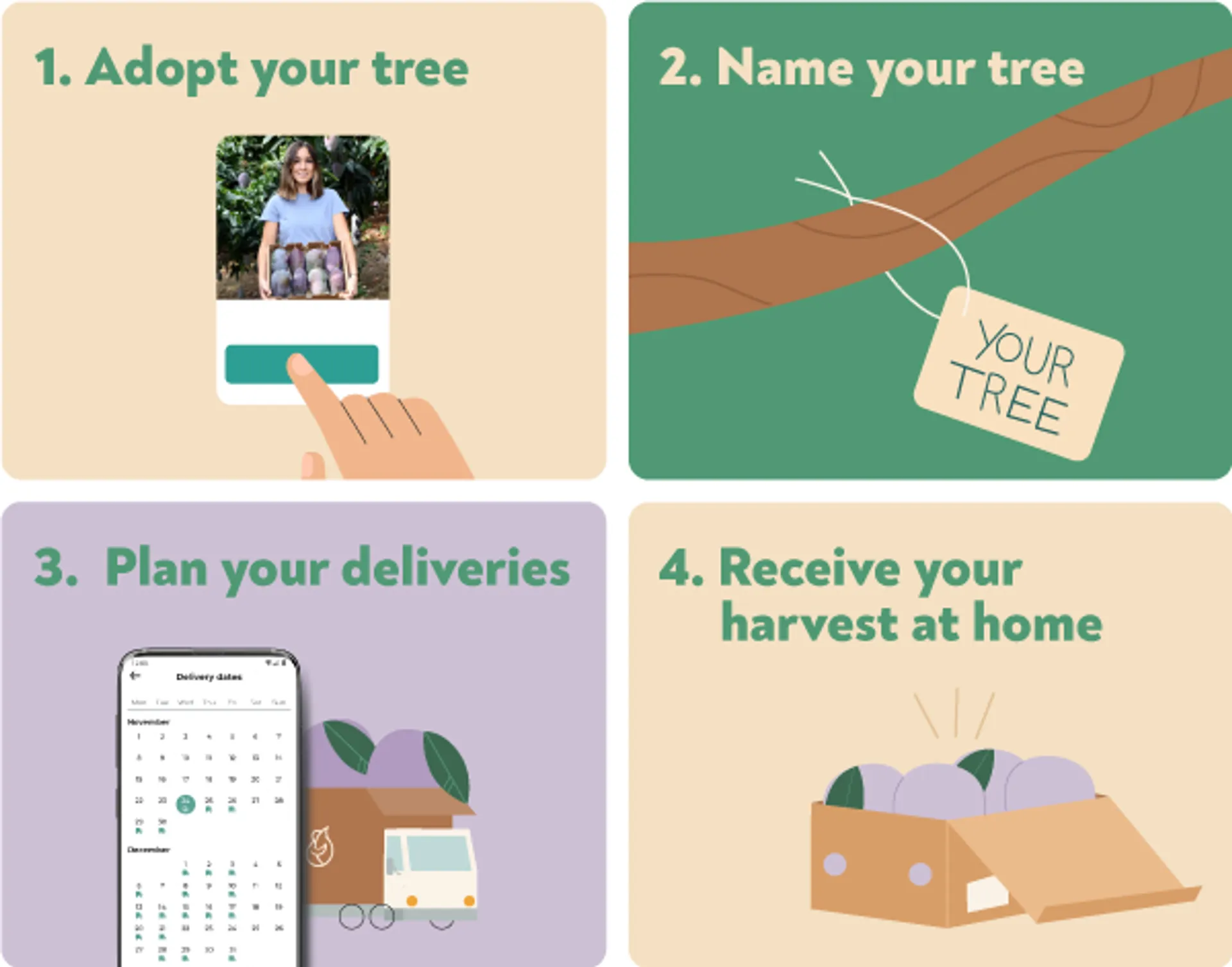 It should be noted that there are two types of adoptions depending on the product chosen:


For the first type of adoption, you receive the product in a single shipment, and the logistics costs are already included in the price displayed on the platform (cheese, olive oil, etc.)
The second is for produce which has an ongoing harvest, and you can receive several boxes throughout the season (mangoes, avocados, oranges, etc.). With this type of adoption, you will have to pay the logistical costs of each shipment separately, as these costs depend on the delivery address you choose. For example, you can adopt an orange tree and then later send the boxes to different addresses all over Europe!


It is important to point out that ordering products via an adoption is not more expensive than ordering individual boxes. On the contrary, in fact, it is usually a bit more advantageous!

Testimonials from our Farmers


"Offering my trees for adoption has been one of the most important decisions of my fieldwork. From the very beginning of each season, I know that a large part of our harvest is already sold at a fair price. This makes it possible to invest in improvements to our farm such as solar panels, water management systems, the introduction of microorganisms and, of course, better conditions for all workers. As well as this, adoptions have made me love my job even more. Having visits, sending photos of the farm and receiving feedback on a daily basis makes my job much more beautiful and interesting."


María Martínez
European mango and avocado Farmer from Finca Los Pepones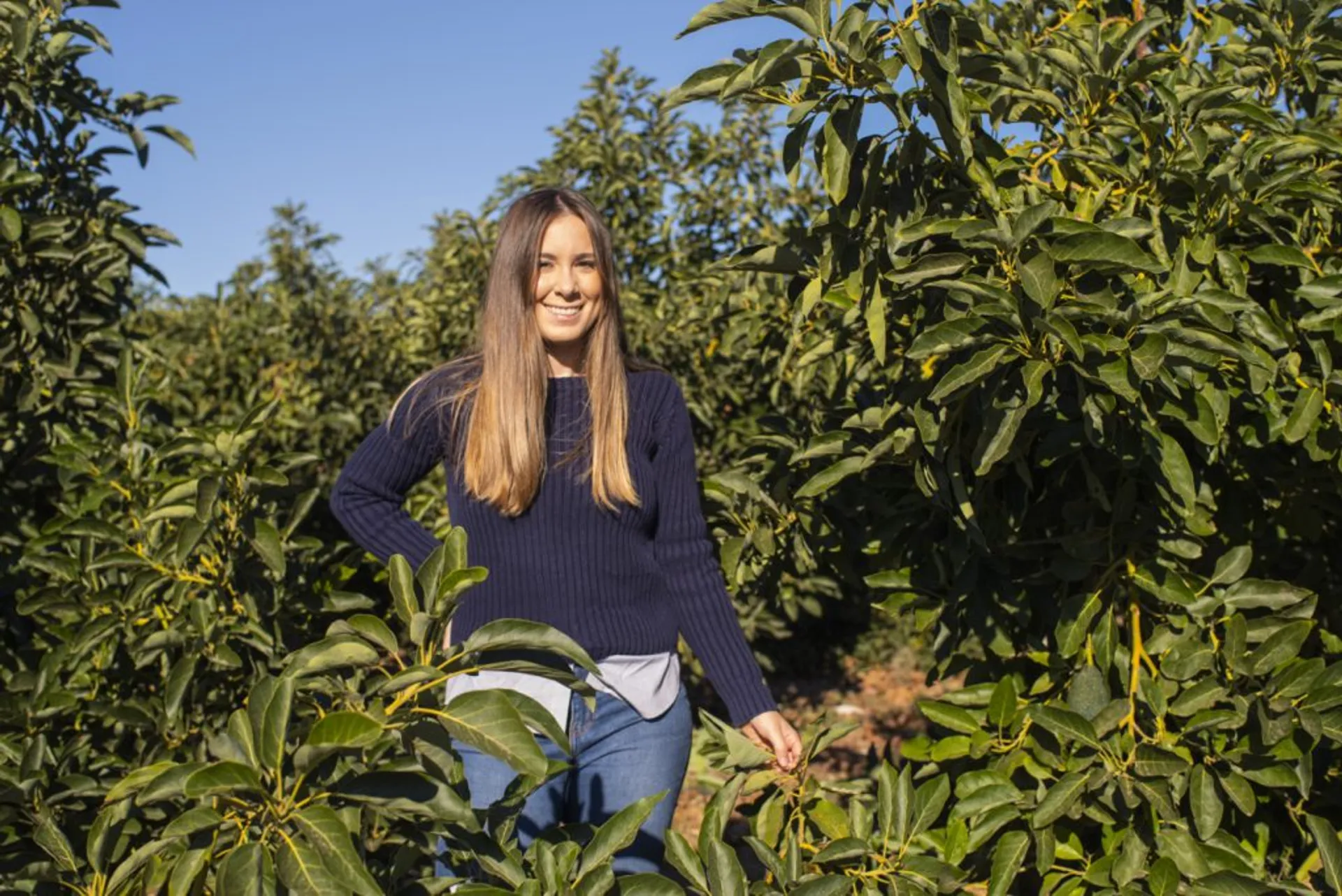 "Adoptions via Crowdfarming have allowed us to expand our horizons and connect with consumers across Europe. In addition to producing our oil responsibly, our goal is to raise awareness about sustainable agriculture and to help our planet: a job that we can't do alone. We have been truly impressed by the adoptions by all these customers in Europe, who give us the courage and strength to continue this vital mission."


Luca Guglielmi
Olive Farmer from Il Bottaccio


As we can see, our adoption model is an effective and practical way to support farmers, and to preserve the environment. It is an original way to participate in rural life while consuming quality products.