At CrowdFarming, the job of Farmer Hunters involves finding producers who want to venture into direct selling and who share our philosophy: promote sustainable agriculture and revolutionize the food supply chain.


Most are used to selling their products to intermediaries, who more often than not resell them to supermarket chains or greengrocers. This creates a big gap between the final price that the consumer pays and the revenue that the producers receive.


"At CrowdFarming, we're not intermediaries but facilitators. This is a subtle but important difference: as a company, we don't buy the product from the farmers, but they sell it and send it straight to the final consumer. We only help them to do it in the most efficient way possible and with the least impact on the environment".
Vidal Cobos – Farmer Hunter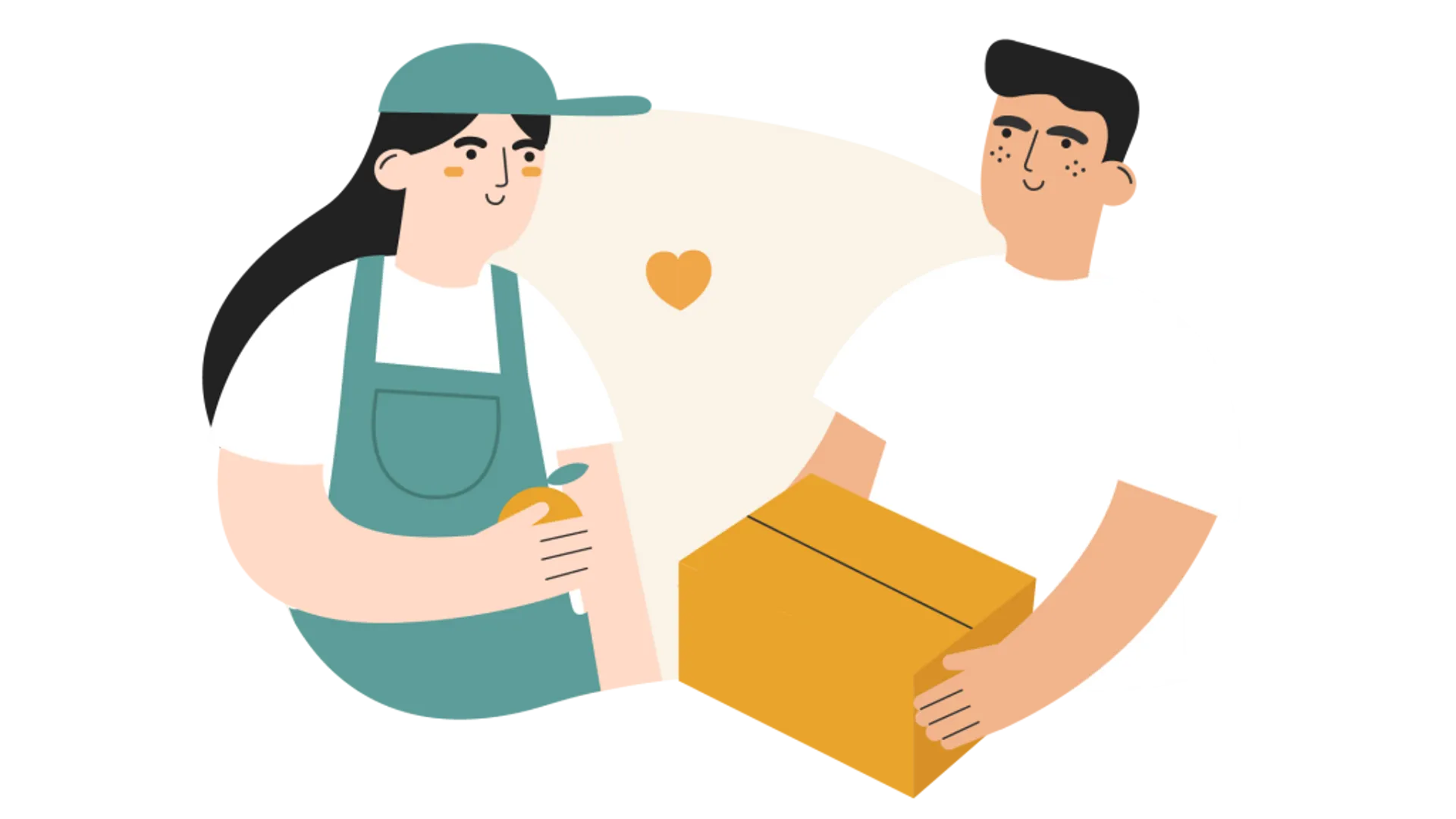 1) Receiving a fairer price


One of the main reasons, but not the only one, for selling on our platform is receiving a fair price, chosen by and agreed with the farmers. In the traditional market, competition abounds and products come from overseas at prices below the cost of production, which can ruin a season. It's not easy to get a good price, and much less a fixed price all season long.


We want to democratise access to quality products for the general public in Europe. That's why the final price of the product should be close to the final price that the customer normally pays for an organic product in their country. Farmers always receive the same price, regardless of the country from which the fruit arrives, and they also receive the money that the intermediary would take.


2) Preventing food waste


In the EU, around 87.6 million tons of food are lost or wasted each year (European Council). Consumers wouldn't believe the amount of produce that is wasted because it fails to meet aesthetic standards, such as a certain colour or an unusual shape.


"We like to set a specific criterion: if the farmer would eat the fruit, then it can be sent out to consumers! They aren't used to providing 'ugly' fruit to intermediaries".
Vidal Cobos – Farmer Hunter


Our platform allows consumers to adopt a tree, an animal or a parcel of land and receive fresh and organic food produced exclusively for them. In addition to creating a true link between CrowdFarmers and Farmers, this model allows the Farmer to grow crops knowing exactly who will consume them.


3) Standardising logistics


Selling to the end customer is an extra step, and requires a greater attention to details. Once the farmer receives the shipping labels, they should pack their products in a suitable box for dispatch, avoiding the use of plastic as much as possible. It's essential that the packaging can withstand transportation. Farmers have to check whether the product is ripe enough, whether boxes are ready, whether they've received the labels and whether the letters for the CrowdFarmers have been printed correctly.


Once the box is ready, it's placed on a pallet that has to be identified. The pallets are then collected by chiller lorries, which stop at every loading point where we have farms until they are completely full, which guarantees full efficiency. We then perfectly map out these routes to minimise our carbon footprint.


4) Simplifying financial management


Selling to the end customer in Europe can vary hugely depending on the country. Each country has a different VAT rate and each box is an individual sale. However, once they learn how to manage tax correctly, the farmers easily incorporate it into their daily processes.


We have a finance department that supports farmers at all times. For tax reasons, only farmers with a company in Europe can sell on CrowdFarming, so producers from Colombia or the Philippines need to have a company here to be able to properly and legally carry out the processes.


5) Getting closer to consumers


Each project must be transparent in all aspects of the farm and have high-quality audiovisual material. The farmer needs to arrange a photo session to showcase their products and also explain their personal story to the CrowdFarmers, with authentic and original texts that must be translated into seven languages. After every season, each adoption must be identified with the name that the CrowdFarmer originally chose, and each productive unit must be photographed. This work is important so that the CrowdFarmer can feel a special connection with their tree, plant or animal.


What's more, one of the requirements to sell products on CrowdFarming is to open up the farm to CrowdFarmers. Visits are truly enriching for both parties, and farmers love to hear how the CrowdFarmers have enjoyed their produce.


Eating is one of life's pleasures, and when we do it consciously, we enjoy it so much more. Our economic model is based on a formula that we've dubbed Win-Win-Winner: the Farmer wins, society wins and together we improve the environment.