How was the elaboration of the oil?

In relation to the 2019/2020 campaign, we would like to inform you that it has been a good campaign both in terms of the quantity and quality of the olives, which has allowed us to produce a high-quality oil. It is also true that this campaign, unlike the previous one, has been accompanied by time, which has allowed us to control the harvest and production times of the oil and at the same time to comply with the delivery dates, which is often not easy, taking into account that the harvest months are October and November and we have to make a great effort to deliver the boxes in the middle of December, but we do so with great pleasure.

In total, we have collected about 320,000kg of olives of different varieties (Arbequina, Borriolenca, Picual, and Canetera) which has meant the production of about 45,000kg of Extra Virgin Olive Oil (EVO). 100% of our oil has been EXTRA VIRGIN.


What work have we done on the farm recently?

As you all know, last season we started the process of certifying organic agriculture both in terms of plant production and in terms of industry (mill or oil mill), which has meant a series of important changes and investments for our company, machinery, staff, treatments, etc., which will lead us to be able to certify organic production in two years' time. In relation to the industrial part, that is to say, production in oil mill, bottling, etc. we already have the Ecological Certification and we only produce oil coming from Ecological Agriculture or in conversion.

This year, we are collaborating with the University Miguel Hernández of Elche in a pilot study on composting which will allow us to reuse all the waste or residues from the oil mill (water from milling and pomace) together with dry matter from pruning and leaves and adding sheep's manure from farms near our farm.
If all this study works well, we will proceed to make our own composting plant to reuse these residues as organic matter in our olive trees and close the circle, being able to say in a couple of years that Bardomus is "Residue 0".

We have installed solar panels on the roof of the oil mill which allows us to use solar energy to develop our work in the offices, bottling plant and homes, producing a total of 10 kW which, added to the photovoltaic plant installed on the property, makes a total of 110 kW.

With recycled material from pallets. Wood, bricks and different material, we are building insect hotels to install them on the different plots.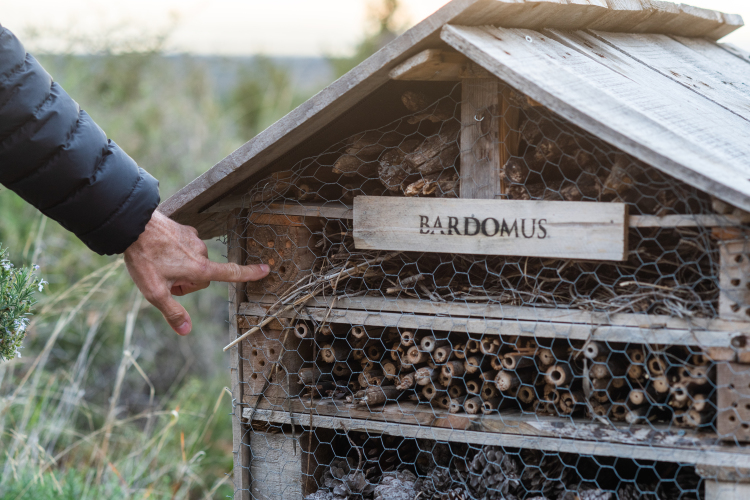 The next steps…

As the last project for this year, we are going to put on the market a new Extra Virgin Olive Oil from the Millenary Olive Trees certified by La Taula del Senia and recognized worldwide by the FAO (Food and Agriculture Organization of the United Nations). This oil will be of the Farga variety and will be called "103 SABOR DEL TEMPS".