With this challenge, the NBA player and president of the Gasol Foundation seeks to raise awareness of the importance of fruit consumption to reduce child obesity.

• According to data from the World Health Organization (WHO), childhood obesity affects 124 million boys and girls around the world aged between 5 and 19.
• 57.5% of minors between the ages of 6 and 9 in Europe do not eat a single piece of fruit a day.
• Part of the clementine sales generated through the challenge are donated to the Gasol Foundation's programs for the promotion of healthy habits.

People must be persuaded with data and role models before changing their habits. The role model inspires people to change. This is precisely what it means to have a social impact, and challenges are a tool that can be used to amplify the impact.
With this in mind, Pau Gasol, NBA player and president of the Gasol Foundation, together with Maria Luisa Henríquez, organic citrus farmer at CrowdFarming, have joined forces to promote the consumption of organic clementines and combat childhood obesity.

The challenge is to throw and try to get three clementines into a cloth bag from a distance similar to that of a free throw in basketball, and then upload the video to social media.


"The message of #fruitimpact is that fruit should be the fun option as well as the healthy option," Pau Gasol said. "This challenge is a great way to introduce fruit into the habits of little ones. It is often said, with good reason, that you shouldn't play with your food, but in this case the game has a meaning, and the fruit is not wasted".

To participate in the challenge, you only need clementines, a cloth bag and a smartphone to record the challenge. From now until Christmas, the CrowdFarming platform is giving away an organic cotton cloth bag inside its boxes of clementines, oranges, and lemons.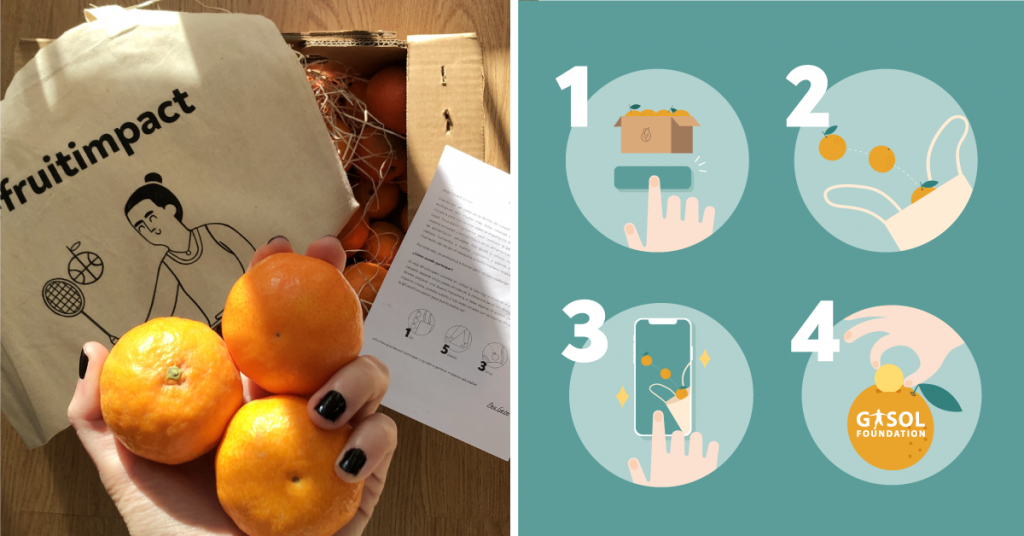 "We got into organic farming years ago out of personal conviction and because we want to leave a better world for our children. These are the same objectives that are now giving us the courage to sell directly to the consumer," says Maria Luisa, a Canarian fruit grower.

The #fruitimpact challenge also has a charitable side. For every kilogram of fruit sold, 10 euro cents (€0.10/kg) will go to programs that promote healthy lifestyle habits in which the Gasol Foundation is involved. These programs focus on families in vulnerable situations, since childhood obesity is more prevalent among minors living in socioeconomically vulnerable environments.

The economic crisis brought by COVID-19 has led many families to experience these situations of vulnerability, and the various lockdowns have affected and continue to directly affect children's health habits.

The eating habits of the child and adolescent population are deteriorating more and more. Fruit contributes significantly to development during childhood and adolescence, but children often do not eat the recommended five pieces of fruit and vegetables a day. This is associated with the consumption of food with little nutritional value. But as the #fruitimpact challenge shows, such food can be replaced with seasonal fruit, which can be just as or even more fun than any other food.


About the Gasol Foundation

According to data from the World Health Organization (WHO), childhood obesity affects 124 million boys and girls around the world aged between 5 and 19. Specifically in Spain, 34.9% of minors between the ages of 8 and 16 are overweight or obese according to the PASOS study by the Gasol Foundation.

Faced with this reality, the foundation was created in 2013 by the brothers Pau and Marc Gasol — NBA and All Stars players — with the aim of reducing childhood obesity numbers. With this purpose in mind, the organisation focuses on creating programs and initiatives that promote healthy habits —physical activities and sport, healthy eating, good quality rest, and the emotional wellbeing of minors and their families—, and it has become a leading figure in the fight against this pandemic and the promotion of scientific research in the area of children's health.


About CrowdFarming

In Europe, more and more farmers are starting to sell their produce directly to consumers. At the same time, more and more consumers are choosing to buy their food directly from the producer. There are advantages for both parties: on the one hand, producers get a better price for their products, which allows them to try organic farming. On the other hand, the consumer receives a genuine product directly from the source, different from the standard products (commodities) usually found in supermarkets.

CrowdFarming is a website founded by young European farmers in 2017 where consumers can buy directly from the people who grow their food.


Press contact

Gasol Foundation: Laura Lorenzo | llorenzo@gasolfoundation.org | 678 93 98 74CrowdFarming: Lena Manz | communication@crowdfarming.com | +34 919 010 807